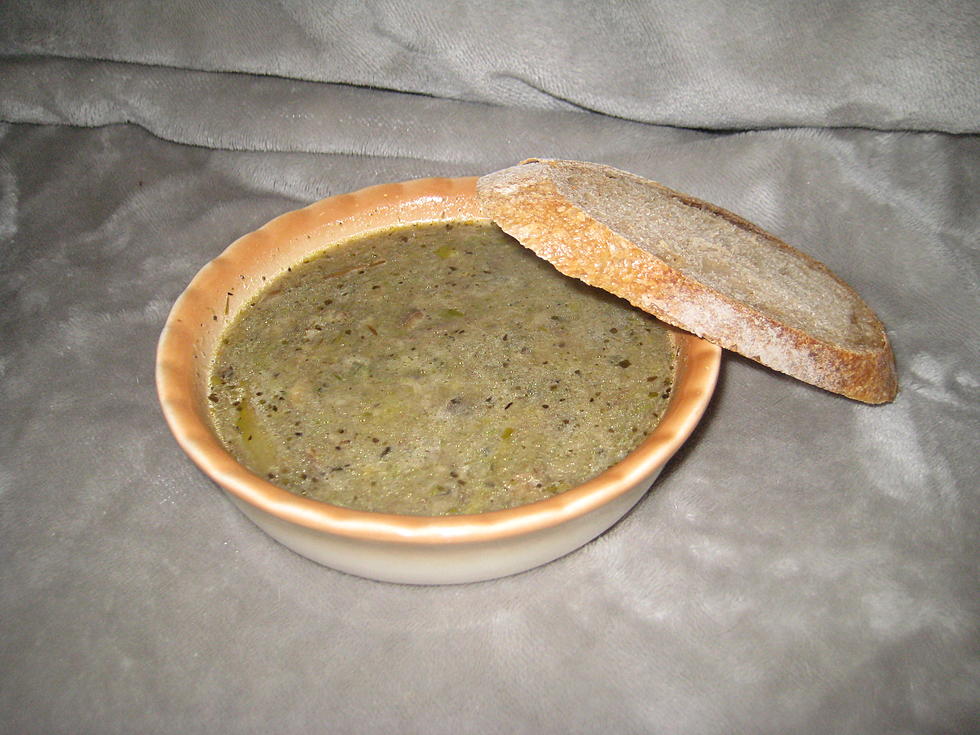 Wild Mushroom, Roasted Asparagus & Leek Soup
Kathy Whyte/ WNBF News
This spring-time soup is vegan and gluten-free but can be jazzed up if you aren't concerned about those dietary issues.
Asparagus, Wild Mushroom and Roasted Leek Soup (Prep. time 50 minutes, including 20 minutes roasting the asparagus and leeks.  Serves 12)
1 leek sliced and rinsed (white part only)
2 C. wild mushrooms (Portabella, oyster, hen of woods.. whatever you like)
2 cloves garlic (grated on a microplane or finely diced
4 baby potatoes, peeled and boiled (If you are making a classic roux with butter and flour to thicken the soup, leave the potatoes out)
Heat oven to 300.  Drizzle olive oil over the leek and asparagus.  Season with salt and pepper.  Roast 30 minutes until vegetables are tender.  Once they cool a little, cut the leeks and asparagus into bite-size chunks.  Rough- chop the mushrooms.  Put all the vegetables, except potatoes, into a large stock pot, leaving out a few asparagus tips. Bring the soup to a simmer.  While the soup is simmering, puree the boiled potatoes that will be stirred in to thicken the soup.  Pull out a few of the mushrooms for added texture. Check the soup for seasoning. Add the potato puree (or prepared roux) and use an immersion blender to smooth soup to a creamy texture (you can also carefully puree in small batches in a blender but be very careful blending hot liquids in a processor or blender). Add the asparagus tips and mushroom chunks back in and serve with crackers or crusty bread.  If you aren't concerned about keeping the soup vegan, stir in some parmesan cheese.
More From WNBF News Radio 1290 AM & 92.1 FM