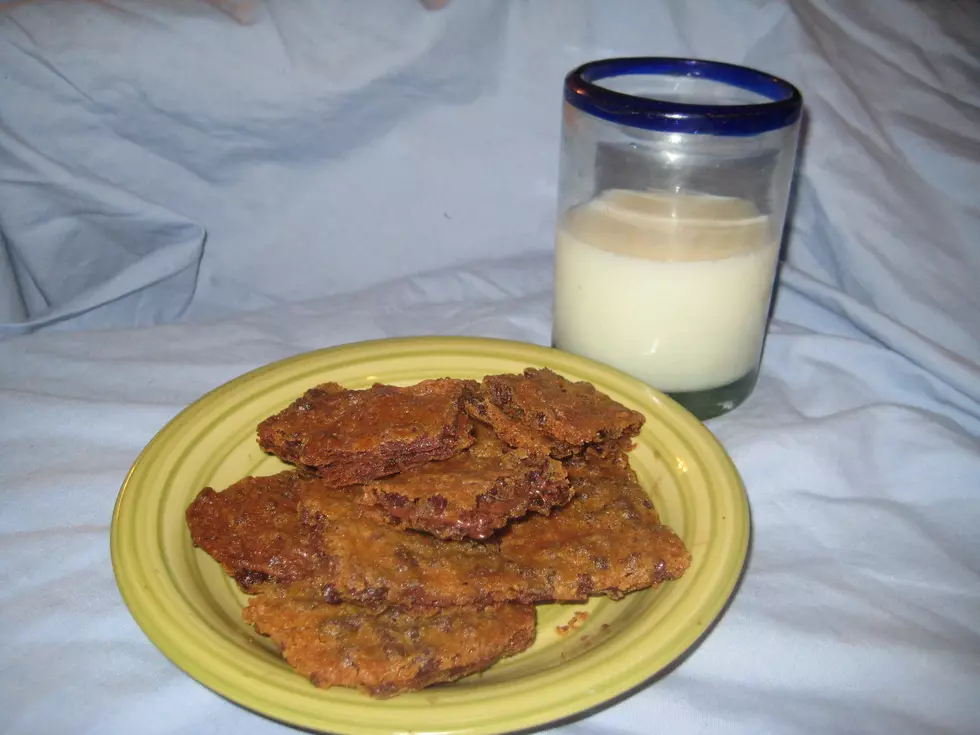 Chocolate Chip Hazlenut-Chocolate Spread Sandwich Cookie Recipe
Kathy Whyte/ WNBF News
Looking for something a little different for the holiday cookie tray?  Easy sheet cookies doubled up with hazelnut spread can be cut as large or small as you like to meet your needs.
Chocolate Chip Hazelnut Spread Sandwich Cookies (prep. time about 25 minutes)
2 C. all purpose flour
1 tsp. baking soda
pinch of salt
½ C. softened butter
½ C. vegetable shortening
¾ C. granulated sugar
¾ C. packed brown sugar
1 Tb. vanilla extract
2 Tb. milk
2 eggs
1 pkg. mini chocolate chips
1 C. chocolate-hazelnut spread. 
Preheat oven to 375.
Cream together butter, shortening and granulated sugar.  Stir in brown sugar, eggs, milk and vanilla extract.  Mix on medium speed until well blended.  In a separate bowl, combine the flour, baking soda and salt.  Reduce mixer speed to low and add in the dry ingredients about a third of a time. Mix on low until the dry combines into the wet ingredients.  Stir in mini chocolate chips.
 Divide dough in half and spread onto two parchment paper lined sheet pans, about a quarter inch thick.  Bake about 10 minutes until golden brown.  Remove to a cooling rack.  Once cool you have a couple options depending if you want cookies with both sides tops or not.  A tricky option to get absolutely even sandwich cookies could save time if it goes exactly as planned. If you feel limber, you can carefully flip one entire sheet of cookie out onto the back of a clean cookie sheet or other large flat surface, peel back the parchment and spread the bottom side with hazelnut cream as thick as you desire to the edges.  Now, carefully flip the second sheet out onto another cookie sheet, peel back the paper then flip again onto the hazelnut-covered bottom in one piece (good luck). Then cut your big cookie into squares. Or, a little more tedious but less tricky option (and the tops and bottoms may not exactly match): Cut each sheet of cookie into even squares. Spread the bottom of each individual cookie with the chocolate-hazelnut spread to desired thickness and place another cookie, bottom-side down on top to make a sandwich.
*Kitchen tips:  parchment paper cuts down on dish-washing time since you don't have any 'product' getting on your cookie sheets. You can even just slide the cookies on the paper to the cooling rack, put on another sheet of parchment and lay down more dough.
Using an equal ratio of shortening to butter, plus the addition of a little milk, makes the standard chocolate chip cookie softer and thinner, for a less bulky sandwich cookie.  The dough will spread like crazy, though. If you are using this for individual, regular cookies, allow for ample spread room.
Sing "The 12 Days of Christmas" Song (Upstate New York Food Edition)
Here is a new twist to that venerable holiday song, "The 12 Days of Christmas". The twelve days here each highlights a different food icon from Upstate New York. Although many of your food favorites made "the song," I do wish it was the 25 days of Christmas instead. Yes, we have that many food legends in our region. So, enjoy the "12 Days of Christmas (Upstate NY Food Edition) and remember, don't just read this post...sing it!
15 Upstate NY Bakeries to Buy the Yummiest Christmas Cookies
Christmas cookies. Just saying those words brings back memories of mom or grandma baking up a storm in the kitchen during the holiday seasons of your youth. Well, these are probably not the Christmas cookies that dear old Mom made, but they are all wonderful, delicious, creative. and bring the spirit of the season to your home or party in a nostalgic way. Check out these gorgeous photos!
More From WNBF News Radio 1290 AM & 92.1 FM