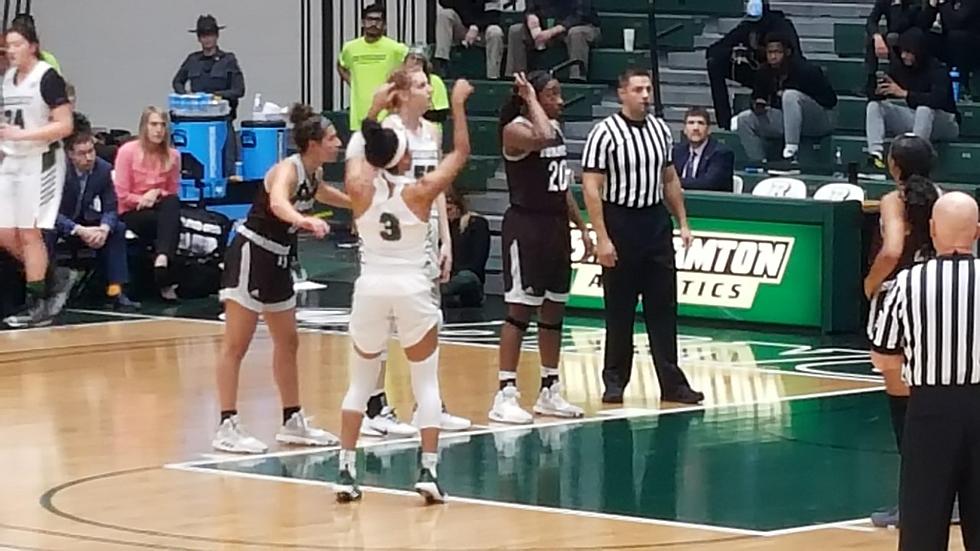 Moon Shines as AE Repeat Player of the Week
WNBF News/Roger Neel Photo
Binghamton University's Kai Moon has earned her second straight America East Player of the Week Award for her standout play last week.  Moon scored 28 points versus St. Bonaventure last Wednesday and then on Sunday torched Eastern Michigan with 21 points to lead the Bearcats to an 8-0 record, the program's longest winning streak since the 2000-2001 season.
Moon won the Player of the Week Award for the third time this season.  She is currently second among Division I players in per game scoring average netting 24.3 points per game.  She is hitting on 44 percent of her shots from the field and 47 percent from beyond the arc.  At the free throw line Moon has made 52 of 64 free throws for 81 percent.
Moon leads her Bearcats into Ithaca where the undefeated Bearcats meet 5-2 Cornell at 7:00 PM on Thursday night.  That game will be broadcast on News Radio 1290 WNBF with coverage beginning at 6:45 PM.
More From WNBF News Radio 1290 AM & 92.1 FM