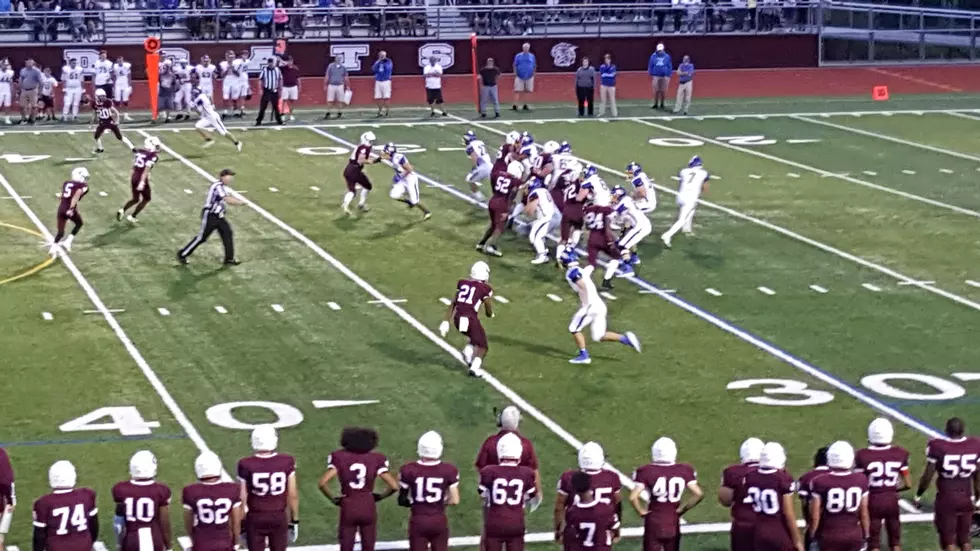 WNBF News/Roger Neel Photo
The Maine-Endwell Spartans had another explosive outing in Section 4 football on Friday night as they defeated long-time rival Johnson City 47-14 at Wildcat Stadium.  The Spartans were up 34-0 at the half.  M-E ups its record to 2-0 while the Wildcats fall to 0-2.
Spartan quarterback Joe Mancini started the offensive barrage with 6:24 remaining in the first quarter as he scored on a nine-yard run.  Speedster Ryan Brozovic intercepted a Jake Harding pass two minutes later to put the Spartans up 12-0.  It was the first of three TD's for the junior.
In the second half the Spartans added to their lead when Josh Chandler raced to an 85-yard touchdown run.  The Wildcats got on the board with a pair of touchdowns late in the second half but by then Maine-Endwell's lead was secure.
Next up for the Spartans is a home game at Maine-Endwell on Friday night at 7:00 P.M.  versus Chenango Valley.  The Warriors defeated Oneonta 34-21 Friday night to up their record to 2-0.  Maine-Endwell rolled to a 68-21 win over Oneonta in their opener last weekend.  The Spartans outscored their opponents 115 to 35 in their first two contests.
WNBF will be at Spartan Stadium on Friday night as M-E hosts CV. Air at 6:55 on News Radio 1290 WNBF.
More From WNBF News Radio 1290 AM & 92.1 FM