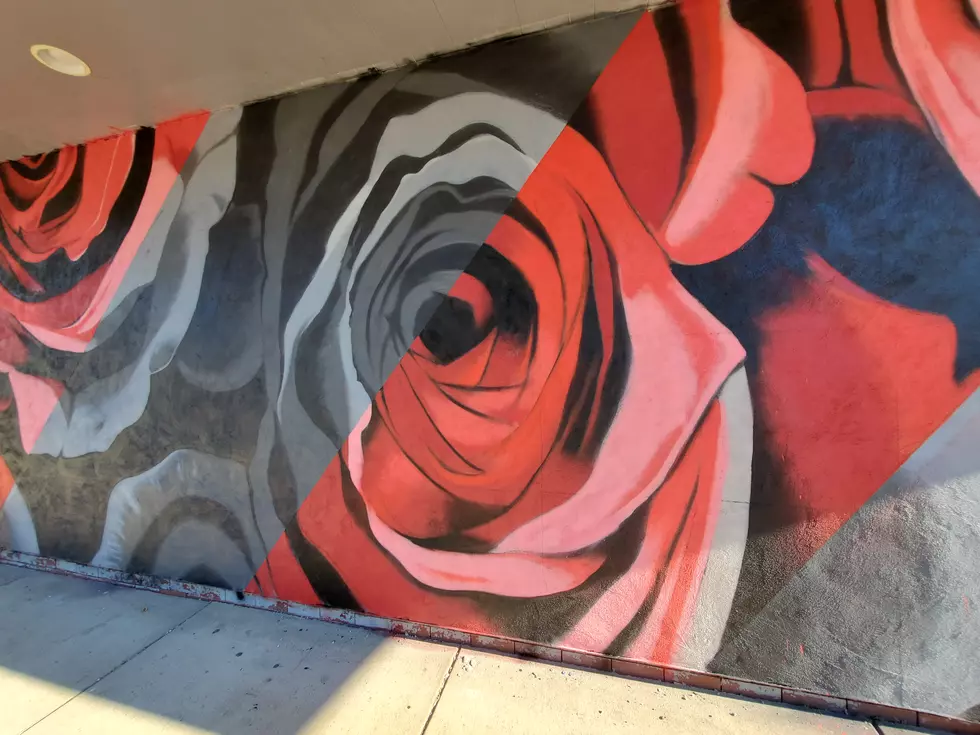 Mural Artist Adds Some Color to Endicott's Washington Avenue
Photo: Bob Joseph/WNBF News
A gray wall on the side of a shop in Endicott's business district has been brightened thanks to the efforts of a Virginia man.
Scott Liam Walker has transformed the south side of a building at Washington Avenue and Monroe Street with his art work featuring roses. The Ever After Bridal Boutique is located at the site.
The 34-year-old Walker was putting the finishing touches on the mural on Friday. He said the design was inspired by the official flower of New York state.
Walker grew up in the United Kingdom. He came to the United States 11 years ago. He said he's created several other murals in public arts projects.
The Broome County Arts Council and the county planning department have been working together to provide grants to professional artists for murals in various communities.
Walker said he wanted to develop an apolitical artwork that would help beautify Endicott.
As he spoke with a reporter, a passing motorist who was stopped for a red light commended Walker for his work. She shouted "you did a great job" before heading on her way.
Enter your number to get our free mobile app
Contact WNBF News reporter Bob Joseph: bob@wnbf.com or (607) 545-2250. For breaking news and updates on developing stories, follow @BinghamtonNow on Twitter.
RANKED: Here Are the 63 Smartest Dog Breeds
Does your loyal pup's breed make the list? Read on to see if you'll be bragging to the neighbors about your dog's intellectual prowess the next time you take your fur baby out for a walk. Don't worry: Even if your dog's breed doesn't land on the list, that doesn't mean he's not a good boy--some traits simply can't be measured.
CHECK IT OUT: See the 100 most popular brands in America
ALSO SEE: 30 Most Decade-Defining Memes
More From WNBF News Radio 1290 AM & 92.1 FM