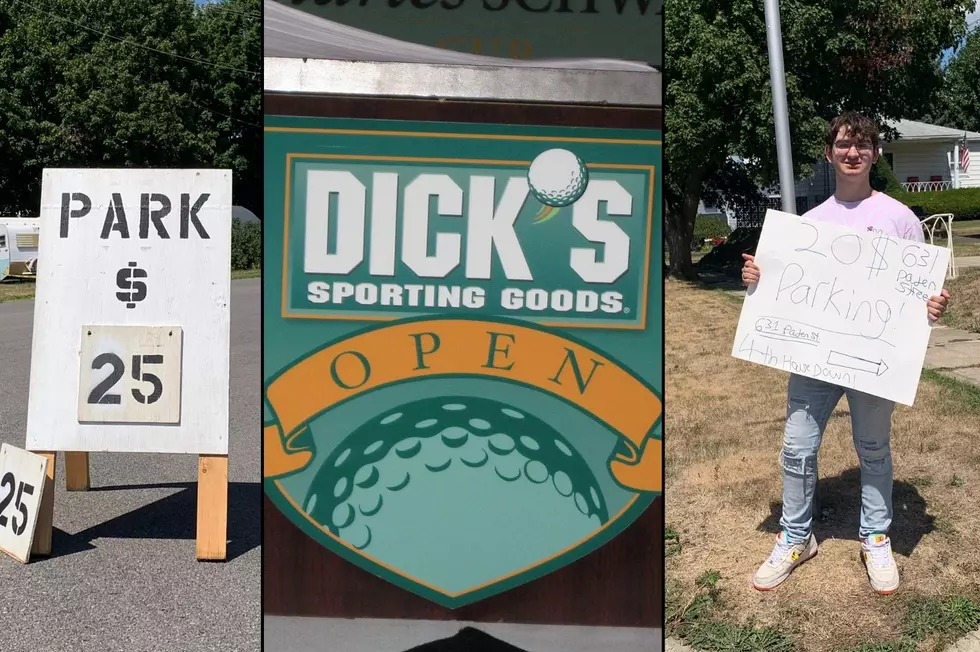 The Real Heroes of the Dick's Sporting Goods Open in Endicott, New York: Parking Lawns
Roger Neel/James Kelly/WNBF and Canva.com
Anyone who's driven by the Dick's Sporting Goods Open golf tournament in Endicott knows that street parking is scarce. Luckily, neighborhood residents have opened their lawns to cars once again.
Endicott residents, businesses and even a church have used their lawns as excess parking for the Dick's Sporting Goods Open golf tournament for years, making some pretty nice profits along the way.
"Some people, if it's closer to the actual park, they can make multiple thousands," said Zachary Bennett as he held up a sign for $20 parking. "On a good year like 2018 when we had U2 I made around $2,500 and like a grand on concert night alone."
Walt Kintner, working a lot down the street outside Vestal Electronics, said "We have over 50 spots I'd say. Over a weekend we make a few thousand at least."
It's easy money for the residents of the neighborhoods surrounding En-Joie Golf Club. All they need is a willingness to let people park on their property and a sign that says how much it costs. Most signs in the neighborhood advertised parking for $20-$25 but one property closer to the course had parking for $40 a spot.
Some properties, like the one owned by Our Lady of Good Counsel Church, use the money raised for parking to benefit community programs. Tom Harley, the deacon of the church, said "We've been parking since 1974 as long as theirs been an Open, first BC Open then Dick's Open. The money that we raise for parking we spend it on part of our community events. We have a soup kitchen on Friday night and food pantry and both of those are not just for parishioners they're for anybody from the community. We net probably off of this about $8,000 and all that goes to the soup kitchen and food pantry work.
In total, the Dick's Sporting Goods Open brings in tens of thousands of dollars to the local community just in parking alone, with a solid portion of that money going towards community support efforts. So the residents of this Endicott neighborhood will surely continue the lucrative tradition in the years to come and local golf fans will never have to worry about a lack of parking for the biggest local tournament of the year.
Take a Look Around the Dick's Sporting Goods Open Golf Tournament
FROM THE SKIES: 24 Southern Tier Golf Courses From A Bird's Eye View
Check out the gold courses that participate in our clubhouse card from a satellite view. Some of them may be bigger than you think.
More From WNBF News Radio 1290 AM & 92.1 FM