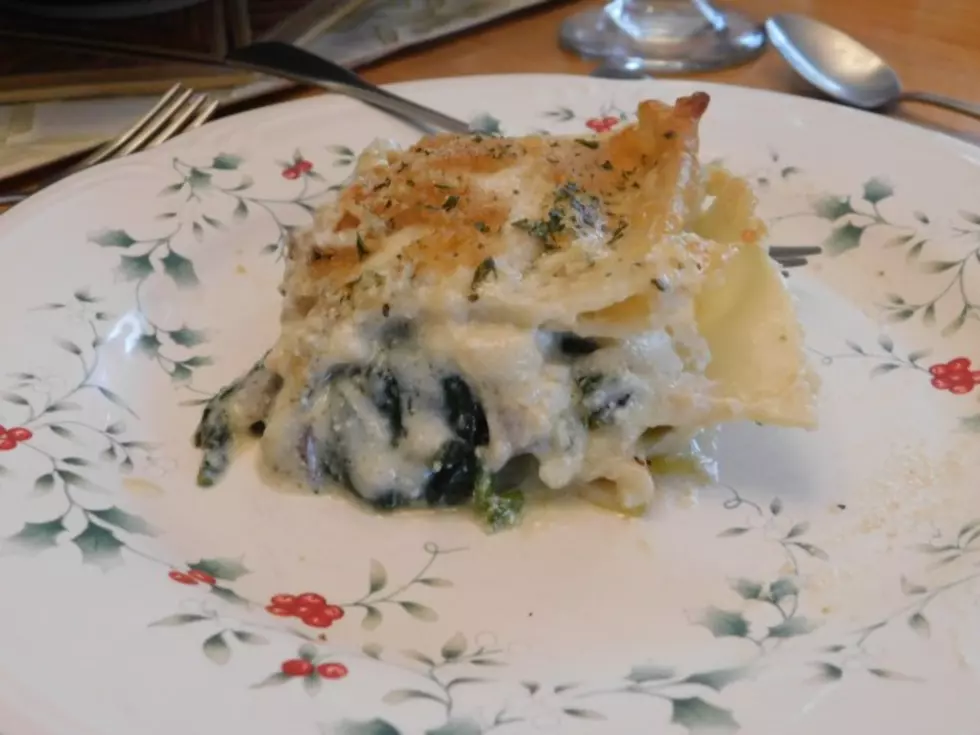 Foodie Friday Wild Mushroom/Spinach Lasagna
Kathy Whyte/ WNBF News
I heard from a lot of people around Thanksgiving when I said I would be making a wild mushroom vegetarian lasagna as well as the meat lasagna that was requested for the feast. So, here it is in all it's cheesy greatness!
Wild Mushroom/Spinach Lasagna (prep. time pre-bake about 1 hour plus 1 hour to bake from cold, if made ahead. Serves 12-15)
1 lb. sliced baby bell and mixed wild mushrooms (you can substitute all portabella mushrooms or even just use white mushrooms if you like)
1 large bag spinach leaves, washed and patted dry
4 cloves of garlic run through a garlic press or finely minced
1/4 tsp. salt (the cheeses are salted, so minimal additional salt is needed)
1/2 tsp. ground black pepper
1 qt. milk (can use lesser fat milk and skip the half and half if you really want to try to save a little bit of fat and calories)
2 C. each: shredded Gouda and Guerrier cheeses
32 oz. container ricotta cheese
1/2 lb. mozzarella, sliced 1/4" thick into planks (put the block of cheese into the freezer for about 30 minutes before slicing on a mandolin, slicing blade on a food processer or slicer side of a box cutter. it will make it easier to cut)
1/2 C panko bread crumbs.
9 sheets lasagna, cooked to package instructions.
Spray bottom of 9X12" pan with cooking spray. Bring salted water to a boil and begin cooking lasagna sheets.  While that is going, melt butter with olive oil over medium-high heat in large sauce pan.  When oil is hot, stir in onions and cook until starting to appear translucent.  Stir in garlic and cook for about a minute. Do not allow it to brown. Sprinkle in the flour, whisking to form a paste.  Stir and cook 1-2 minutes until the roux turns a golden color.  Whisk in milk and cream, stirring quickly to avoid lumps and make sure the flour is out of all edges of the pan.  Reduce heat to medium-low.  Add salt,pepper, herbs and grated nutmeg and continue to stir and cook until the sauce starts to thicken and coats the back of a spoon.  Stir in Gouda, Parmesan and Guerrier cheeses, melting them into the béchamel, taking special care to keep stirring around on the bottom and corners to keep the mixture from sticking and burning to the bottom of the pan (if you do notice some browning as you spoon out the sauce, just be careful not to scrape the browned bits into the rest of the sauce and you can still use the majority of the béchamel without impacting the flavor.)  Taste to adjust salt, pepper and herb seasonings.  Remove from heat.  In a large sauté pan, heat about a 1Tb. olive oil over medium-high heat and stir in mushroom slices. You may have to cut some of the bigger mushrooms into a more uniform size.  Sauté until tender and remove to a large bowl.  In the same hot pan, stir in the spinach, as much as you can get into the pan. Stir and toss, adding in more spinach as the leaves in the pan wilt, until all the spinach is wilted down and cooked.  Lightly salt and pepper.  Pour any liquids from the cooked mushrooms and spinach into the cheese sauce.  If the sauce is too thick, you can thin with vegetable stock or milk, but a thicker sauce is okay for lasagna.
Drain the cooked lasagna noodles and cool until you can handle the slippery pasta. Move the noodles around as you go to keep them from sticking together in the cooking pot.  Place three lasagna noodles on the bottom of the greased pan.  Spoon one-third the cheese sauce over to cover. Top the sauce with half the spinach and mushrooms. Drop dollops of ricotta cheese evenly on top and lay down the mozzarella slices, followed by a sprinkling of Parmesan.  Place the next three noodles on top and repeat the layering, leaving 3 lasagna noodles, a third of the sauce, mozzarella and Parmesan.  Place the final three noodles and top with the remaining sauce, making sure to cover all the exposed pasta ends. You can push the ends of the noodles down into the edges of the pan to keep them from being all dried out and nasty.  Layer the remaining mozzarella planks over the top.  Sprinkle bread crumbs and Parmesan on top.  You can liberally sprinkle parsley flakes and/or basil over the top for color.
To bake: Pre-heat oven to 400 degrees. Put the pan on a foil-covered cookie sheet or jelly-roll pan. It will bubble over! Start the lasagna on the lower rack, covered for about 30 minutes if not cold, 45 if made ahead.  Turn the pan a half turn partially through baking.  Uncover, move to the upper rack and bake another 15 minutes or until the cheese on top is melted and bread crumbs golden brown.
Remove from the oven and allow to sit for about a half hour before slicing to allow the cheeses to set or it will just run all over the place.  Still yummy, but burn-your-mouth boiling hot and not that pretty to look at.
Serve with side salad and bread.
As with regular lasagna, leftovers can be frozen and microwaved to reheat.  If you have any leftover sauce when done layering the lasagna, it is a terrific Alfredo sauce for fettuccine with shrimp or chicken.) 
More From WNBF News Radio 1290 AM & 92.1 FM