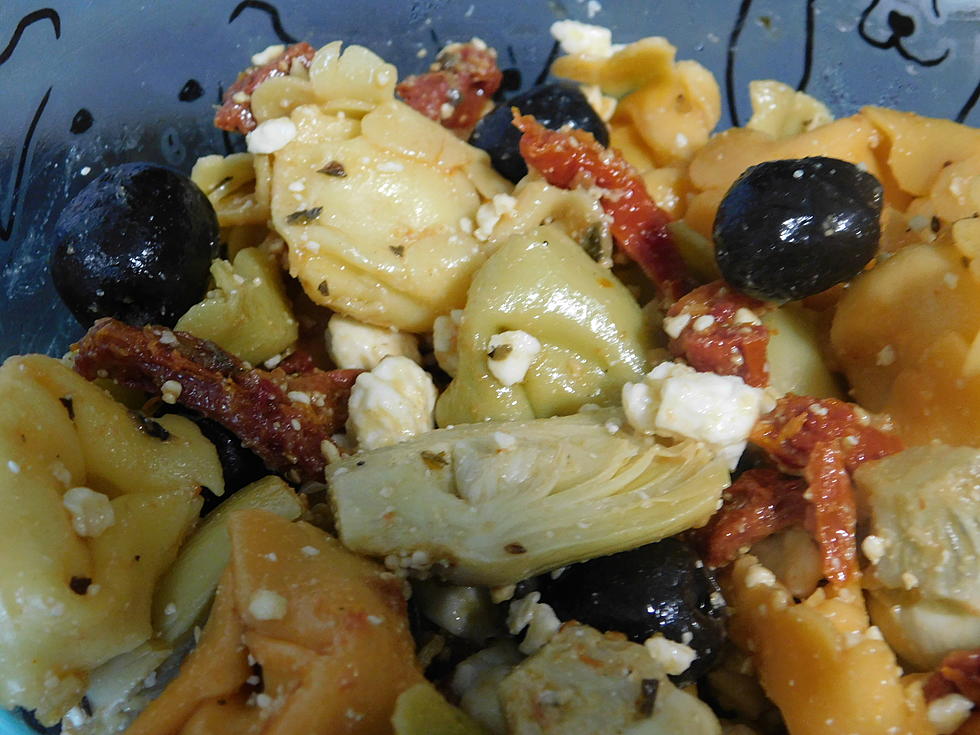 Foodie Friday Tortellini Pasta Salad with Artichokes, Sun-Dried Tomato and Feta
Kathy Whyte-WNBF News
A cold cheese tortellini pasta salad is a nice trade out for the usual macaroni or tri-color corkscrew pasta salad.
Tortellini Pasta Salad with Artichokes, Sun-Dried Tomato and Feta (prep. Time 20 minutes. Serves 4-6)
1 9 oz. package tri-color cheese tortellini, cooked per package instructions
½ of a 4 oz. can (2 oz.) of quartered artichoke hearts, drained and rinsed
2 ounces small pitted black olives
½ of a 9 oz. jar of julienne sun-dried tomatoes (drained)
½ C. crumbled feta cheese
¼ C. Balsamic Vinaigrette Dressing:
½ C. Extra Virgin olive oil
¼ C. good balsamic vinegar (check different flavor profiles for how sweet or tart you like)
¼ tsp. Kosher salt
½ tsp. cracked black pepper
½ tsp. dried oregano
1 tsp. dried basil
¼ tsp. red pepper flakes
Put all the dressing ingredients in a jar with a tight-fitting lid and shake vigorously until oil and vinegar are emulsified.
Make the dressing while the pasta cooks or just used a favorite bottled Italian or Caesar Salad dressing.
Drain the tortellini and place in a large bowl. Gently toss in the artichokes, olives and sun dried tomato.  Pour ¼ cup of the dressing over the pasta and mix gently.  Taste and adjust vinegar and/or salt to taste. Remember, the feta is very salty. Refrigerate or at least let cool to room temperature before tossing in the feta.  You could leave feta to the side to allow everyone to add as much or as little as they like.
Great as a different kind of pasta salad side but also makes a nice light main course.
Other ideas:  While the drained pasta is hot, tear about 2 cups of baby spinach leaves into the tortellini.  The spinach will cook as the pasta slowly cools.  Add chunks of a hard Italian sausage like pepperoni, Salame or Soppressata if you opt for non-vegetarian or try other vegetables beside artichokes like grilled zucchini, yellow squash or asparagus. Think of flavor profiles, textures and colors when selecting the add-ins.
Top Spiedie Places In The Southern Tier
More From WNBF News Radio 1290 AM & 92.1 FM