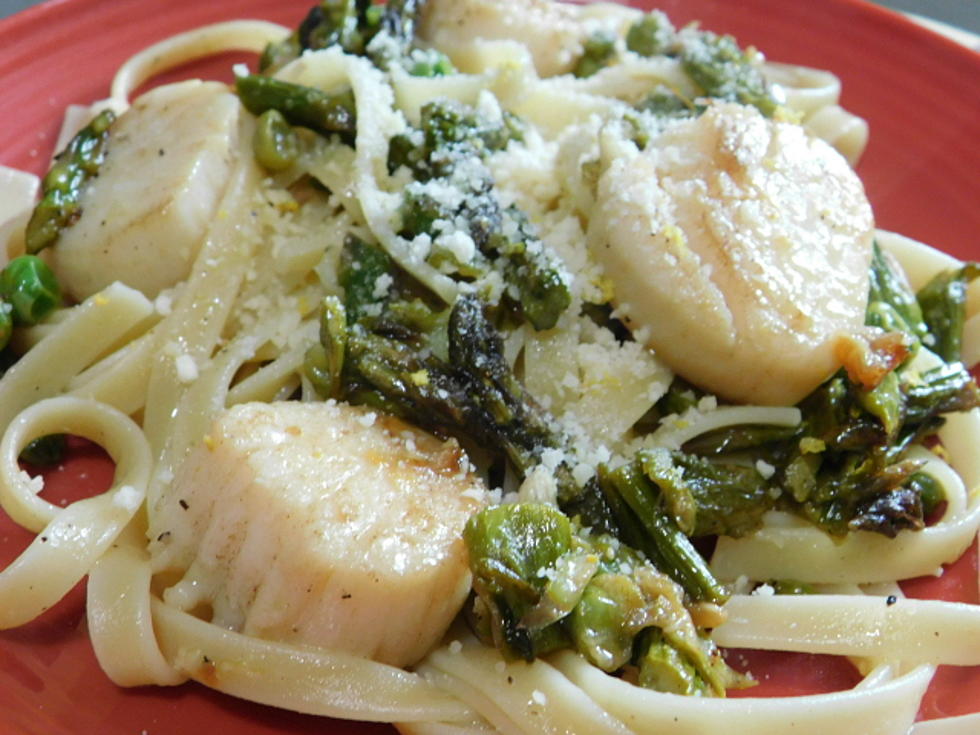 Foodie Friday Spring Seared Scallops Linguini
Kathy Whyte/ WNBF News
Celebrate the arrival of early spring vegetables like asparagus, peas, ramps and spring onions by incorporating any or all of them into a quick, light dinner.
Spring Seared Scallops Linguini  (Prep. time 15 minutes. Serves 3-4)
½ bunch asparagus, bottom portions snapped off and oven-roasted in olive oil until tender then diced
½ C. peas (either fresh spring peas or frozen)
4 cloves garlic thinly sliced (or 4 cloves roasted garlic diced)
Juice and zest of ½ lemon
Boil salted water to cook the pasta to just short of al dente. Heat butter and oil in a saute pan on medium heat until butter just starts to slightly brown (about 3 minutes, depending the size of the scallops).  Arrange scallops in the pan and to sear until golden brown on one side. Add in the peas and diced asparagus, garlic, lemon zest and juice and cracked black pepper and salt to taste.  Turn scallops and sear on the other side.  The scallops are done when they feel firm when pressed.  If in doubt, you can always partially cut one to make sure it is opaque all the way through. Once the scallops are done, lift pasta from water and toss with the scallops and vegetables.  If the pasta seems a little dry, add a ladle of the pasta water and a drizzle of olive oil.  Toss in parmesan cheese with more to top each serving.  You can squeeze a little more lemon juice over each serving to further brighten the flavors.
More From WNBF News Radio 1290 AM & 92.1 FM