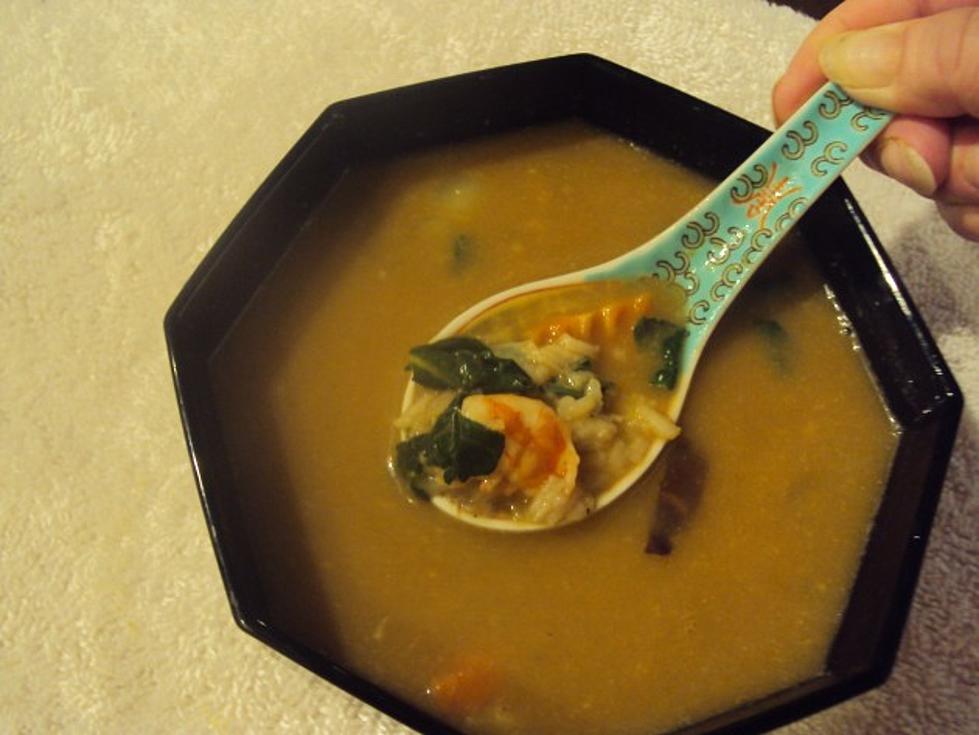 Foodie Friday Shrimp Fried Rice Soup
Kathy Whyte/ WNBF News
What do you bring to a soup pot-luck that isn't potato soup? (True story) You bring something different like Shrimp Fried Rice Soup. Everything you love about Shrimp Fried Rice.. in a soup!
Shrimp Fried Rice Soup (Prep. time: 30 minutes. Makes about 8 quarts)
1 lb. medium raw shrimp, peeled (cut into smaller pieces if needed but 41-count should be fine left whole)
1 large clove garlic, minced or grated
¼ C. carrots, diced (obviously, you can use the frozen carrot/pea combo)
1 C. shitake mushrooms (woody stems removed), cut into bite-sized pieces (optional)
½ C. baby bok choy, chopped (optional)
1 tsp. ginger, peeled & finely diced or powdered
2 boxes vegetable or seafood stock
In a large stock pan or Dutch Oven, heat olive oil over medium-high heat.  Add raw shrimp shells. Cook until they turn pink and remove from pot.  Stir in the onion and sauté until they start to become tender.  Add the garlic and ginger (if using raw).  Stir in the carrots and cook until they start to become tender.  Add the peas and baby bok choy.  When the greens start to wilt, add the stock and soy (and ginger powder, if not using raw ginger) and bring to a simmer.  Add in the shrimp and rice.  Beat the eggs and drizzle into the soup, stirring constantly, after the shrimp turns pink.  Remove the soup from the heat and taste for seasoning.  Add more soy sauce as needed.
More From WNBF News Radio 1290 AM & 92.1 FM