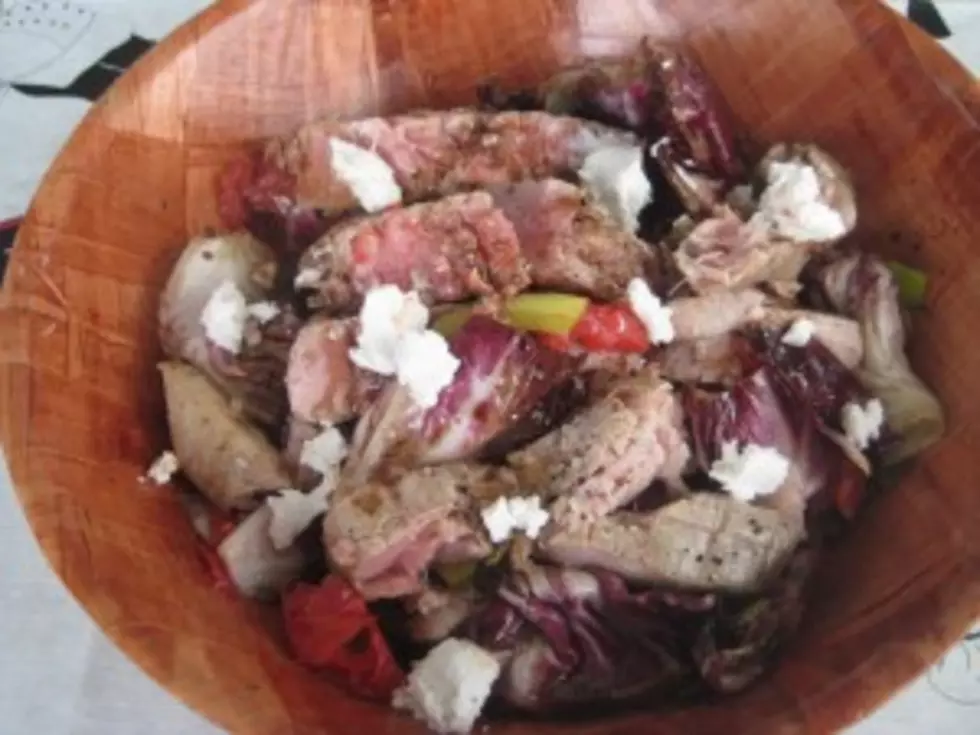 Foodie Friday Grilled Ahi Tuna and Greens Salad Recipe
Kathy Whyte/ WNBF News
Firm fish like tuna or swordfish are great on the grill and even better when its part of a dinner salad on a balmy summer day.
Grilled Ahi Tuna and Vegetable Salad (Prep. time: 15 minutes. Serves 4)
1 lb. fresh Ahi tuna steaks
2 heads Belgian endive * I used radicchio in the original recipe but found it was too bitter.
1 leek (white part only)
2 Roma tomatoes
¼ C. goat cheese
2 Tb. olive oil
1 Tb. balsamic vinegar 
2-3 Tb. honey to taste
salt/ pepper
juice of a half lemon 
Slice the endive and leek in half (make sure the leek is well rinsed to get all the sand out) and patted dry.  Drizzle the endive, leek and tomatoes with olive oil and season with salt and pepper.  Heat the grill to high. Place the leek and endive, cut side down on the grill along with the tomatoes.  Lightly drizzle the tuna steaks with olive oil and season with salt and pepper.  When the vegetables start to char on all sides, put the tuna on the grill.  It should be cooked only about 2 minutes each side to keep it rare to medium rare.
Remove the tuna and set aside to rest while the vegetables are sliced into bite-sized pieces. Slice the tuna against the grain into about quarter-inch slices. Arrange the vegetables on the plate and drizzle with olive oil and balsamic vinegar.  Top the greens with the tuna and crumbled goat cheese. Drizzle a little more vinegar on top, the juice from the half lemon and the honey (trust me.). Use as little or as much honey you like for your sweetness preference.
Can be served warm, at room temperature or cold.  It's best warm, though. 
What Are the Signature Drinks From Every State?
More From WNBF News Radio 1290 AM & 92.1 FM