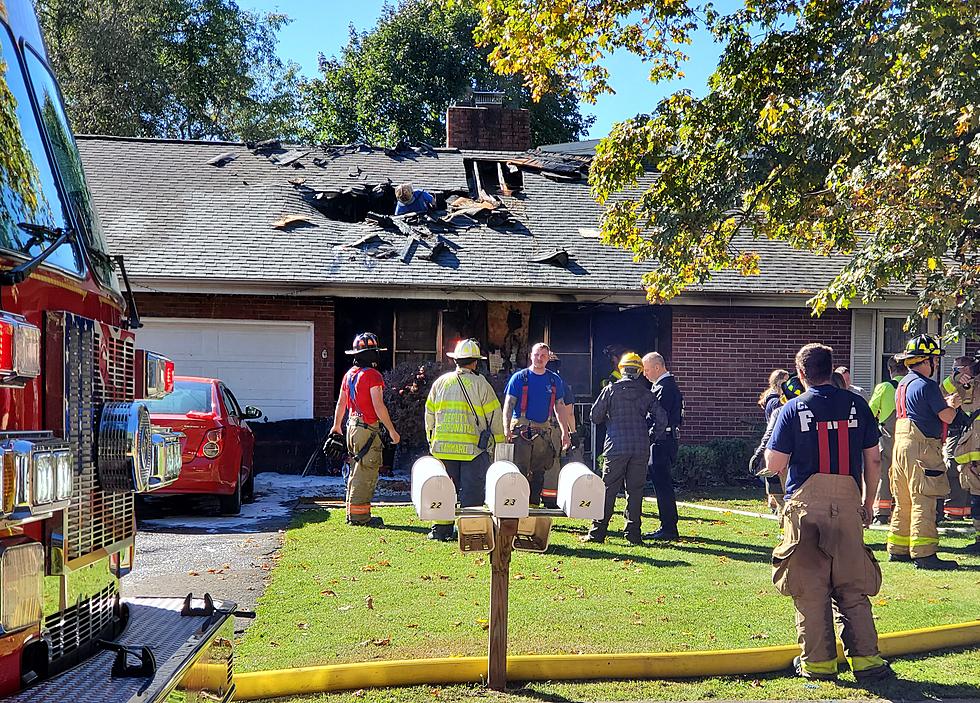 Forgotten Purse, Barking Dog Result in Two People Saved from Fire
Photo: Bob Joseph/WNBF News
Two men who were in a burning home near Binghamton likely are alive today because a woman left her purse at home and a dog was sounding an alarm.
Town of Chenango resident Brian Hoffman said he and his wife were about to start a trip to Boston last Friday morning. They returned to home to retrieve the purse she'd left behind.
Hoffman said as they were about to head out of town again, they spotted smoke. They then saw heavy fire on the front porch of a house on South Morningside Drive.
While his wife called 911, Hoffman banged on some windows of the home to alert any occupants to the fire. He heard a dog barking and managed to gain entry through a back door.
Hoffman saw a couple of dogs inside and a cat on the second floor. When he went upstairs to retrieve the cat, he noticed two closed bedroom doors.
While holding the cat, he managed to wake up two sleeping men and alert them to the fire.
Speaking on WNBF Radio's Binghamton Now program Thursday, Hoffman said he and the two residents were able to safely exit the burning house. He said the pets also were OK.
Several fire departments worked to bring the blaze under control. The fire caused heavy damage to the home. No injuries were reported.
The fire apparently was caused by careless smoking.
Enter your number to get our free mobile app
Contact WNBF News reporter Bob Joseph: bob@wnbf.com.
For breaking news and updates on developing stories, follow @BinghamtonNow on Twitter.
RANKED: Here Are the 63 Smartest Dog Breeds
Does your loyal pup's breed make the list? Read on to see if you'll be bragging to the neighbors about your dog's intellectual prowess the next time you take your fur baby out for a walk. Don't worry: Even if your dog's breed doesn't land on the list, that doesn't mean he's not a good boy--some traits simply can't be measured.
LOOK: Here Are 30 Foods That Are Poisonous to Dogs
To prepare yourself for a potential incident, always keep your vet's phone number handy, along with an after-hours clinic you can call in an emergency. The ASPCA Animal Poison Control Center also has a hotline you can call at (888) 426-4435 for advice.
Even with all of these resources, however, the best cure for food poisoning is preventing it in the first place. To give you an idea of what human foods can be dangerous, Stacker has put together a slideshow of 30 common foods to avoid. Take a look to see if there are any that surprise you.
More From WNBF News Radio 1290 AM & 92.1 FM