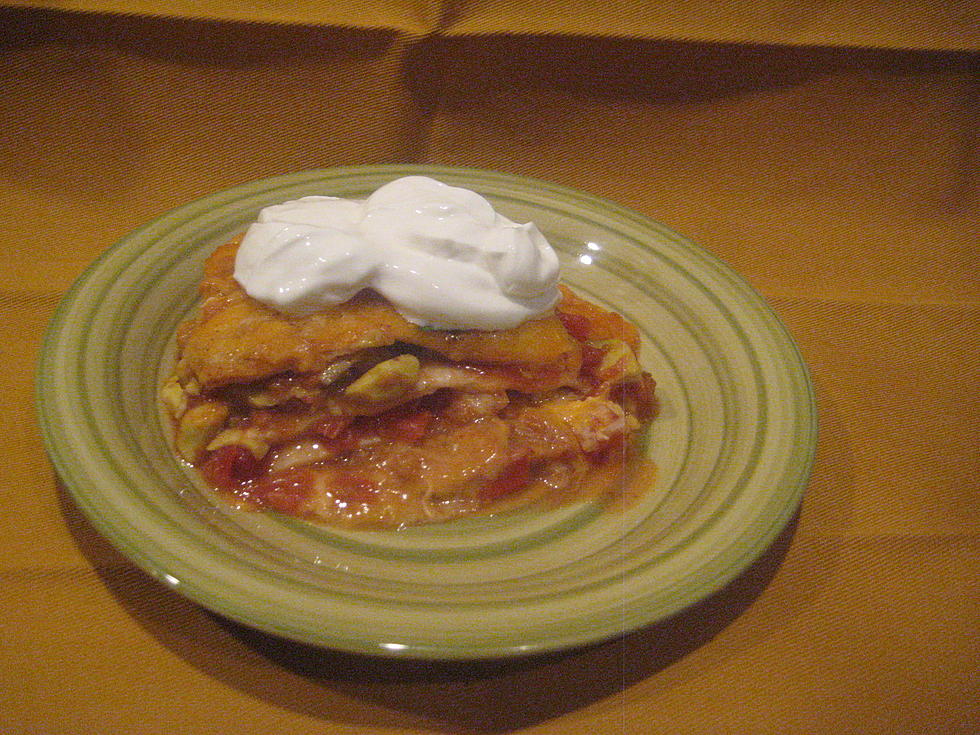 5 Layer 'Mexican Dip' Casserole Foodie Friday
Kathy Whyte/ WNBF News
Who cares if you've missed Cinco De Mayo by a few days?  Continue to celebrate by turning a favorite dip into a main course!
Five Layer 'Mexican Dip' Casserole (prep. time 40 minutes.  16 servings)
10 soft flour tortillas
10 oz. can enchilada sauce
16 oz. can refried beans
10 oz. can diced tomatoes with green chilies
2 ripe avocados, sliced
1 C. shredded cheese (Colby jack, cheddar, Mexican mix.. your choice)
½ C. salsa
½ C. sour cream
Preheat oven to 360. Spray a 9X11 baking pan with cooking spray.  Pour enchilada sauce into a deep  plate or wide bowl. Coat both sides of two tortillas with the sauce and place in the pan.  Spread the refried beans over the top.  Sprinkle just a little of the cheese on that.  Dredge another two tortillas in the sauce and place on top.  Layer on the diced tomato and green chili.  Sprinkle with a little more cheese, keeping enough for a final cheese layer. Dredge two more tortillas and top the tomatoes. Coat two more tortillas and place over tomatoes.  Arrange the avocado slices in an even layer.  Coat two more tortillas with enchilada sauce and top with the remaining cheese and salsa.  Bake 20-30 minutes until bubbling through and the cheese is melted. When done, snip a little fresh chives or cilantro on top to garnish.  Serve the slices with the final layer: the sour cream.
(If you want to do a 6th layer, brown some ground beef with taco seasoning, two more tortillas, and put another layer wherever you want.  I would put it between the tomato and avocado layer, but that's just me)
It's actually also pretty good cold.
Four Surprising Things You Can Put Mustard On
More From WNBF News Radio 1290 AM & 92.1 FM