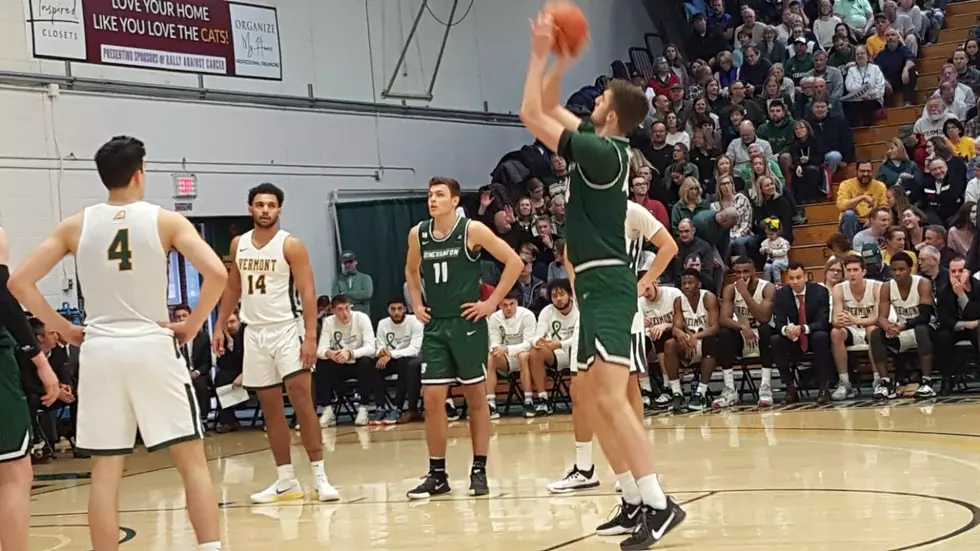 Vermont Catamounts Too Much for BU Men in Burlington
WNBF News/Roger Neel Photo
The Vermont Catamounts left no doubt about who the number one team in America East is as they stopped the visiting Binghamton Bearcats 76-48 in men's basketball on Saturday afternoon 76-48. Vermont led 39-26 at the half and then outscored Binghamton 37-22 in the second half to secure the win.
The Catamounts upped their America East record to 11-1 while the Bearcats fall to 2-10.  Vermont is 18-2 versus Binghamton in their last 20 meetings in Burlington and 35-8 all-time.
Sam Sessoms led the Bearcats with 13 points while Pierre Sarr and George Tinsley each scored 10 points.  The Catamounts were paced by Anthony Lamb with 19 points and Stef Smith with 18.  Binghamton made just four three-point baskets in 21 attempts for 19 percent from beyond the arc and 19-57 for 33 percent from the field. Vermont shot 30 percent from beyond the arc and 45 percent from the field.
Next up Vermont travels to Stony Brook on Thursday night looking to avenge  its only conference loss of the season an 81-77 defeat in the conference opener. Binghamton returns home to host UMass Lowell on Thursday night at 7:00 PM.
More From WNBF News Radio 1290 AM & 92.1 FM