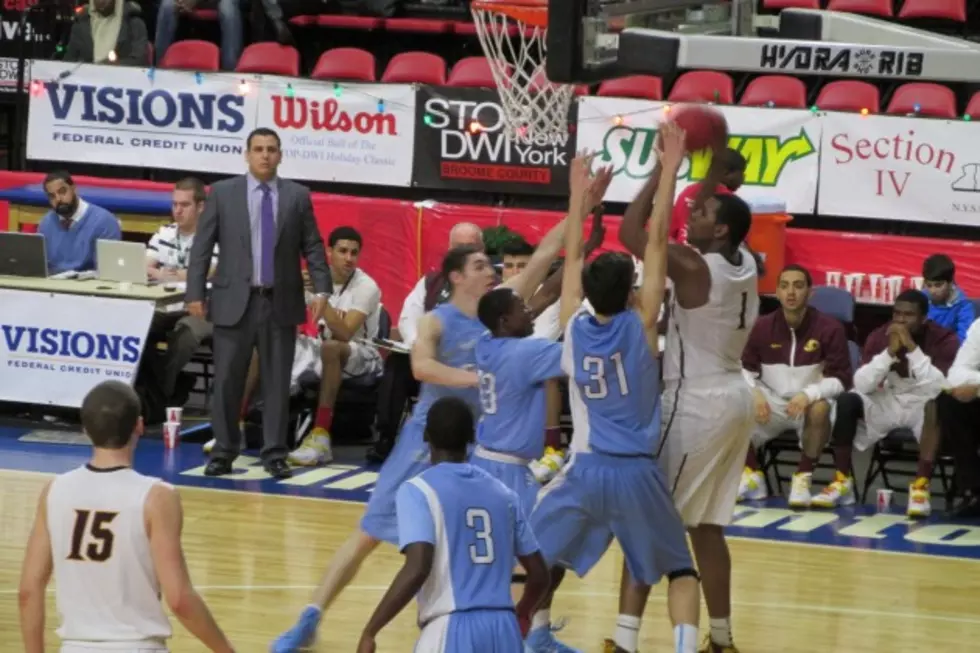 Section 4 Basketball Teams Seeking State Championships
WNBF News/ Roger Neel Photo
Three area high school basketball teams will represent Section 4 this weekend in the New York State Public High School Athletic Association Championships being played in the Albany area.  At 1:30 this afternoon the Maine-Endwell Spartans meet Pittsford Sutherland in a Class A semi-final game at Hudson Valley Community College.  Tomorrow at 12:30 the Union-Endicott Tigers meet Jamestown at the Glens Falls Civic Center in a boys Double-A semi-final.  Also tomorrow Harpursville faces Hoosic Valley at 2:15 in a Class C semi-final girls battle.
The Spartans  carry a record of 18-2 into today's contest while Pittsford Sutherland out of Section 5 is 22-1.  The Spartans advanced to today's semi-final round with a win over Peekskill.  M-E is looking to capture the state title after losing to Troy 46-30 in the championship game last year.
The U-E Tigers defeated Mt.Vernon last weekend at the Events Center in Vestal 69-66 to earn the trip to Glens Falls.  U-E is 17-4 and faces Jamestown in the 12:30 scheduled start tomorrow.
Tomorrow at 2:15 undefeated Harpursville takes a 23-0 record into their semi-final dual with Hoosic Valley out of Section 2.  Harpursville looks to capture the Class C title this year after being defeated by Little Falls last March in the championship game.
Winners from the semi-final round will meet for the state championship on Sunday.