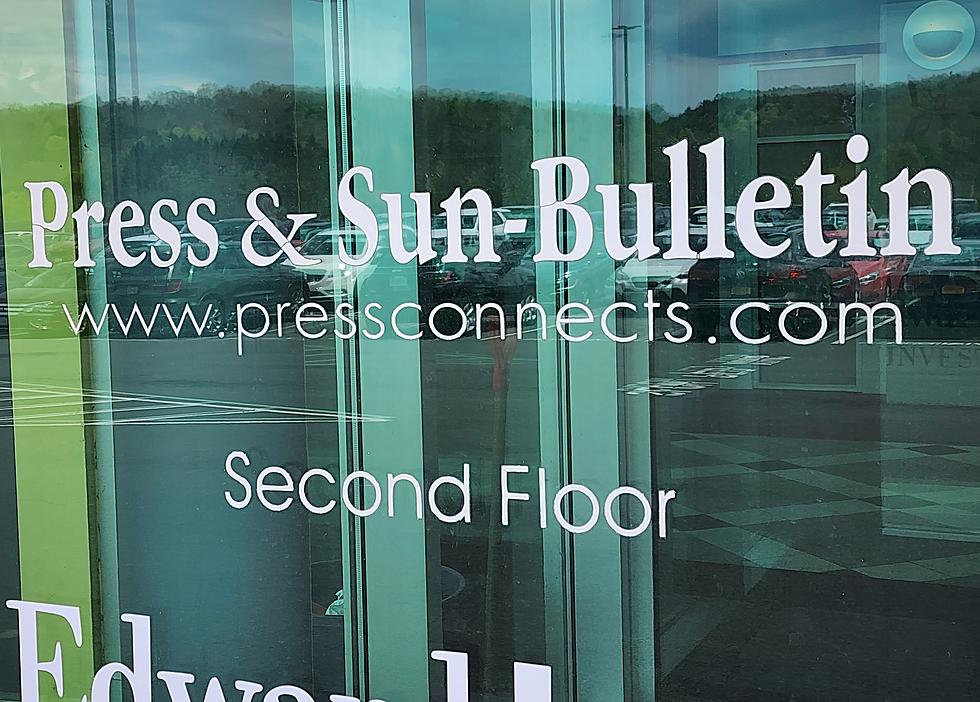 Press & Sun-Bulletin Moves Out of Corporate Park Office Space
Photo: Bob Joseph/WNBF News
The Binghamton Press & Sun-Bulletin has abandoned the site of its once-bustling local newsroom and offices in the town of Union.
The Gannett newspaper moved most of its operations from the Vestal Parkway to the Airport Corporate Center at 33 Lewis Road in Choconut Center in December 2009.
The site was about two miles north of a $50 million printing plant the company opened in 2006. The production facility was closed twelve years later.
One former employee estimated nearly 200 people worked at the Lewis Road site at one point several years ago.. Some were involved with local news, sales and circulation operations. Others handled corporate payroll, finance and billing functions for Gannett.
Many of the Broome County-based jobs were eliminated during several rounds of cost-cutting by Gannett.
Press & Sun-Bulletin newsgathering and sales workers began working remotely in 2020 at the outset of the Covid-19 pandemic.
Since then, people who work for other businesses in the corporate park that originally was built for Savin Corporation said they rarely saw activity in the newspaper offices.
Last week, other workers observed things being moved out of the Press & Sun-Bulletin space.
While the loss of the Binghamton newsroom may represent the end of an era for local journalism, it's not unique.
In recent years, Gannett has been vacating newsrooms at its locations in New York state and across the country. The company has drastically slashed the size of its workforce and shut down printing plants to reduce operating expenses. Many newspapers owned by other companies also have been shutting down newsrooms and requiring their reporters to work remotely.
The Press & Sun-Bulletin online "newsroom directory" now lists two news reporters, one sports reporter, a regional enterprise editor and the Southern Tier executive editor.
Some limited newsroom operations are said to continue at Gannett's Democrat and Chronicle and The Journal News in Westchester County.
Gannett corporate communications declined to answer a series of specific questions about New York state news operations. The company emailed this statement:
"Gannett publishes 12 daily news outlets in New York, all of which are covering their communities on a daily basis, supported by the power of the USA TODAY Network. Our newspapers hit the doorstep of thousands of loyal readers, and subscribers have 24/7 access to our reliable, in-depth reporting through our website, mobile app, and eNewspaper. We're committed as ever to the quality, local coverage our valued community and readers depend on."
The Press & Sun-Bulletin stopped seven-day-a-week production of a print edition in March 2022. It no longer publishes a Saturday edition and also no longer offers holiday print editions.
The Gannett email concluded: "For the record, your reporting that we are considering reducing our publishing frequency was inaccurate and we'd appreciate a correction. We have no further comment."
Enter your number to get our free mobile app
Contact WNBF News reporter Bob Joseph: bob@wnbf.com or (607) 545-2250. For breaking news and updates on developing stories, follow @BinghamtonNow on Twitter.
KEEP READING: Scroll to see what the big headlines were the year you were born
Here's a
look at the headlines
that captured the moment, spread the word, and helped shape public opinion over the last 100 years.
The 100 Best Places to Live on the East Coast
How Many in America: From Guns to Ghost Towns
Can you take a guess as to how many public schools are in the U.S.? Do you have any clue as to how many billionaires might be residing there? Read on to find out—and learn a thing or two about each of these selection's cultural significance and legacy along the way.
More From WNBF News Radio 1290 AM & 92.1 FM