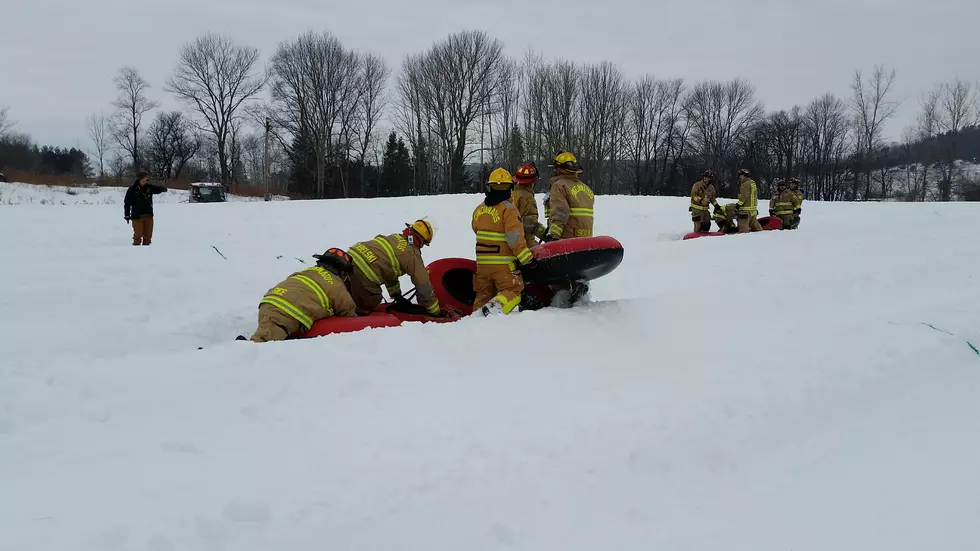 New York Volunteer Firefighters 'Play' in the Cold in Cortland
photo provided by FASNY
It's fire on ice in Cortland this weekend.
The 14th annual Firefighters Association of the State of New York Winter Games start February 9 with Tube Racing at Greek Peak and continues with firefighters competing in tug-o-war, hose races and broomball contests.
SUNY Cortland is hosting a number of events at the Park Center Alumni Arena.
Hundreds of volunteer firefighters from across New York State, dressed in full turnout gear, put their skills to the test through the weekend.
In addition to things like tubing, other events have a more specific connection to what responders deal with, including the Stokes Basket Carry with firefighters working rescue basket sleds and a scavenger hunt that hones search skills.
Everything wraps up with an Awards Ceremony February 10  following the Broomball Tournament at SUNY Cortland.
7:45-11:00 a.m.

--

Tube Racing at Greek Peak Adventure Park and Tubing Center
9:00-11:30 a.m.

--

Stokes Basket Carry (Former Sled Pull)
9:30 a.m.-1:00 p.m.

--

Firefighter Geocache (Scavenger Hunt)
11:00 a.m.-1:30 p.m.

--

Hose Relay at Greek Peak
1:30-4:00 p.m.

--

Tug-O-War at Greek Peak
7:00 a.m.-1:00 p.m.

--

Broomball Tournament


Park Center Alumni Arena at SUNY Cortland

More From WNBF News Radio 1290 AM & 92.1 FM