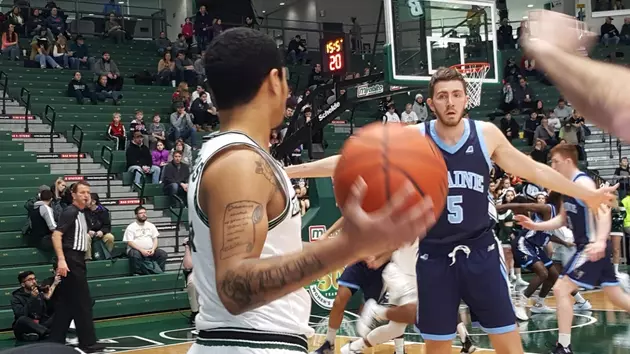 Maine Stops BU Men's Comeback
WNBF News/Roger Neel Photo
The Maine Black Bears moved a game ahead of the Binghamton Bearcats men's basketball team in America East play yesterday (Saturday) at the Events Center. The Black Bears used a 20-5 run to open up 55-38 lead early in the second half and hold on for an 82-75 victory.  In the playoff picture it was huge for Maine as the Black Bears move to 3-7 in the conference and Binghamton drops to 2-8 in America East.  The win moves Maine into the eighth and final playoff spot...one game up on the Bearcats.  Each team has six conference games remaining. Should the teams end up the regular season with identical records the Black Bears would get the playoff spot after sweeping the two-game series with Binghamton.
Maine had three players scoring over 20 points each.  Nedeljko Prijovic led the way with 24 points and 10 rebounds.  Andrew Fleming was right behind with 23 points and Sergio El Darwich added 22 more.
The Bearcats were led by a career-high 20 points from Richie Caldwell, Jr and 16 more from George Tinsley. Tinsley also grabbed 10 rebounds.  Sam Sessoms also had a double-double with 13 points and 10 assists.
The Bearcats remain home to face Stony Brook on Wednesday night. It is a Weis Pack the House Night with free ticket coupons for the game available at area Weis Markets.
More From WNBF News Radio 1290 AM & 92.1 FM