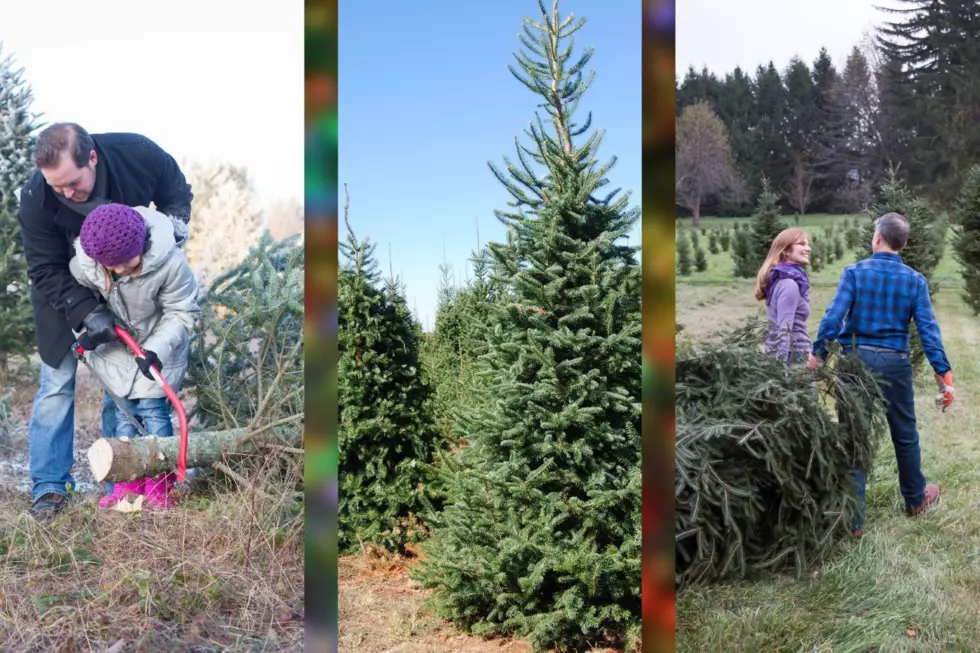 An Expert Christmas Tree Farm Guide for NY's Southern Tier
Canva
The season is here. Yep, Christmas tree farms are now open for business. There's nothing quite like the smell of a fresh tree like Balsam Fir, Douglas Fir, Blue Spruce, Scotch Pine, Norway Spruce, or one of several other types.
Growing up, we had a real tree for Christmas. Having an artificial tree instead, was never even up for discussion with my family. Back when I was a kid, I don't recall much of a choice anyway.
Do you remember when those aluminum Christmas Trees came on the market? At first, I thought they looked interesting, but I'm glad we never bought one. According to Dambly's Garden Center website, these artificial trees started to become popular in the 1950s but dropped off after the 1965 Charlie Brown Christmas special. So, was it Lucy's fault that aluminum trees became a thing of the past?
Anyway, back to live Christmas trees, someone once asked me if they could legally go onto public land in New York State to cut down a tree for Christmas. Well, I was pretty sure of the answer but decided to check for sure. The New York State Department of Environmental Conservation says "Unauthorized cutting of live trees or new trail building is prohibited." So, the answer is simple - no.
But there are places throughout the Southern Tier where you can buy a Christmas tree. We have several tree farms in the area where you can pick and choose the tree you desire for your home.
Some that we found include (call ahead for days, and times and to make sure they are open):
Codys Tree Farm - 1805 Farm To Market Road, Endwell
Five Pines Christmas Tree Farm - 1302 East Maine Road, Johnson City
Coles Turnpike Tree Farm - 52 Parsons Rd, Whitney Point
Chalker Creek Tree Farms - 112 Shafer Road, Chenango Forks
Sunny Hill Tree Farm - 1810 Farm To Market Rd, Endwell
Burford's Tree Farms - 70 Ahern Road, Binghamton
4 Season's Farm - 

456 Tiona Rd Maine

Kelsey Brook Farm - 155 Searles Hill Rd, Bainbridge (possibly closing the weekend of 12/3-4)
Hunts Tree Farm - 146 Blackman Hill Rd, Berkshire
Let me know if we missed any, and I'll add them to the list!
[via Dambly's Garden Center, NYS DEC]
15 Upstate NY Bakeries to Buy the Yummiest Christmas Cookies
Christmas cookies. Just saying those words brings back memories of mom or grandma baking up a storm in the kitchen during the holiday seasons of your youth. Well, these are probably not the Christmas cookies that dear old Mom made, but they are all wonderful, delicious, creative. and bring the spirit of the season to your home or party in a nostalgic way. Check out these gorgeous photos!
LOOK: See what Christmas was like the year you were born
Five Holiday Health Hazards to Dogs and Cats
More From WNBF News Radio 1290 AM & 92.1 FM