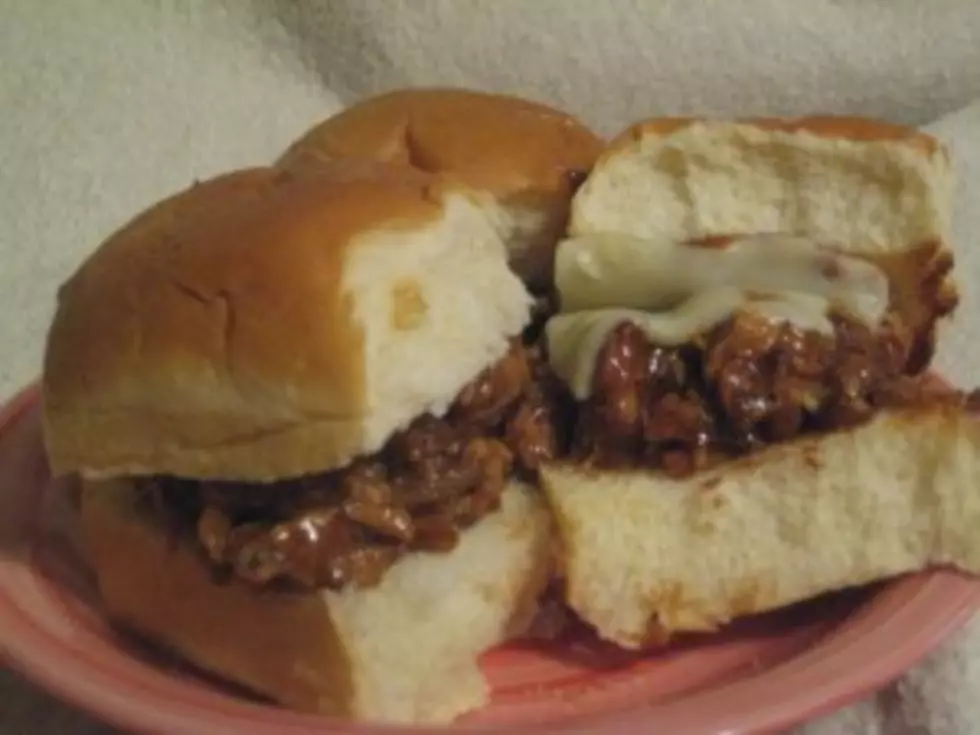 Foodie Friday Ready for the Big Game: Barbecue Pulled Pork Sliders
KathyWhyte/ WNBF News
Time to get the menu set for the big game.  Think good food that is easy to hold and just the right size. Making pulled pork for slider sandwiches in a slow-cooker is convenient with easy clean-up.
Slow Cooked Pulled Pork Slider Sandwiches (prep. time 4 hours in a slow cooker. Serves 4 but can easily be expanded for however many sandwiches you need. Just plan one chop per sandwich and you will have plenty,)
4 boneless pork chops
1 yellow onion, thinly sliced
1 C. chicken or vegetable stock
¼ tsp Thai chili paste (optional)
bottled hickory smoke barbeque sauce (or whatever sauce is your favorite. Our friends at Down to Earth Whole Foods in Endicott say they have a locally-produced bar-b-que sauce that was developed just for their store that removes high-fructose corn syrup from its recipe:)
slider rolls (or regular sandwich buns for larger sandwiches)
sliced American cheese
Barbecue dry rub:
2 Tb. paprika
1 Tb. onion powder
1 tsp. garlic powder
1 tsp. cumin
1 tsp. black pepper
pinch salt
Combine the ingredients for the dry rub or purchase a pre-mixed seasoning.  Rub the seasonings into both sides of the pork chops and set aside.
Place the sliced onions in the bottom of the slow cooker and add the stock.  Stir the chili paste, if you're using it, into the cooker, evenly coating the onions.  Turn the slow cooker onto high and place the pork chops on top of the onions.  The stock only needs to barely cover the onions to slowly steam the chops. When close to the pork being done, place sandwich rolls, split in half, under the broiler until very lightly browned. Put square of cheese the size of the roll halves on top (I put the cheese on both the top and bottom halves) and return under the broiler until the cheese is melted.
After 4 hours, the meat should easily fall apart when pulled with a fork.  The onions pretty much disintegrate, too.  Stir in desired amount of barbeque sauce.  Taste for seasoning. If you want more heat, add hot sauce or cayenne pepper. If you want it sweeter, stir in honey, molasses or a little brown sugar.  Serve pulled pork on the warm rolls with a side of extra sauce if someone wants their sandwich a little more wet.
These are great for an afternoon of watching football in front of the TV or, something to remember for next season if you're a tailgater, adapters are available to plug your slow cooker into your vehicle and keep the pork nice and warm for the whole game! Increase the recipe as needed.
Five Simple Slow Cooker Meals That Cost $10 or Less
Top Spiedie Places In The Southern Tier
Ranked: Broome County's Best Pizza
If you're from Broome County, you know how fierce the great pizza debate is. Are you a Nirchis fan, or are you team Brozzettis? No matter how many of these pizzas you enjoy, deep down everyone has their favorite.
To finally put the pizza dispute to rest, we've turned to Yelp! To tell us who REALLY is Broome County's Best Pizza...
Will your favorite pizza place make the list? Did Yelp! Leave anything out?
More From WNBF News Radio 1290 AM & 92.1 FM