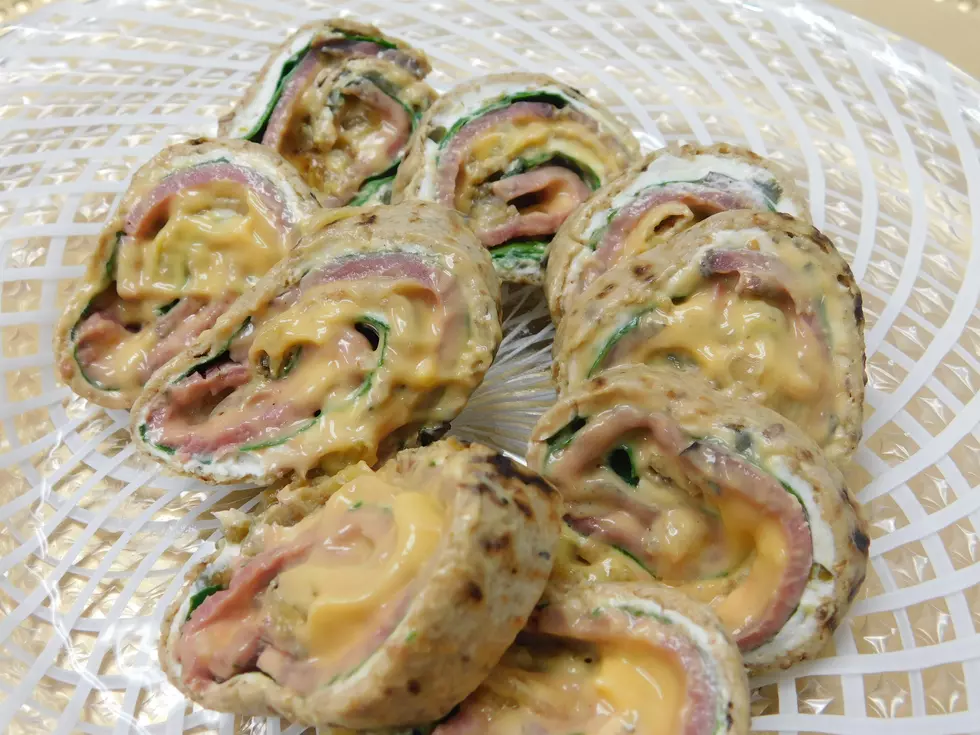 Foodie Friday Philly Cheesesteak Pinwheel Appetizers
Kathy Whyte/ WNBF News
Foodie Friday goes "south of the border", as in Pennsylvania, with Philly Cheesesteak (and Philly cream cheese) party treats.
Philly Cheesesteak Pinwheel Appetizers (Prep time 1 hour. Makes about 3 rolls with 12-16 slices per roll)
8 oz, ("Philly") cream cheese softened
¼ C diced mild green chilies (Poblano)
1 C. "Wiz" (you know what I mean) cheese-spread product, warmed slightly
2 C spinach (baby leaf stems removed)
½ lb. paper-thin sliced roast beef
Allow caramelized onions to cool.  Mix together cream cheese, sour cream and green chilies.  Lay out three sheets of flat bread.  Spread the cream cheese mixture on each sheet of bread, leaving a quarter inch bare on one long edge.  Lay down a layer of spinach leaves and beef.  Spread the cheese-paste product (Wiz) thinly on the beef (warm the Wiz in the microwave for about 15 seconds if needed to make it spread smoothly without tearing the beef). (Use as much or little Wiz as you like as Wiz ratios appear to be debatable according to my taste-testers.)  Finish with a layer of caramelized onion.  Roll each flatbread sheet tightly into a long roll. Chill about a half hour to make it easier to slice.  Use a serrated knife to cut into ½ inch pieces.  Serve room-temperature or chilled.
More From WNBF News Radio 1290 AM & 92.1 FM