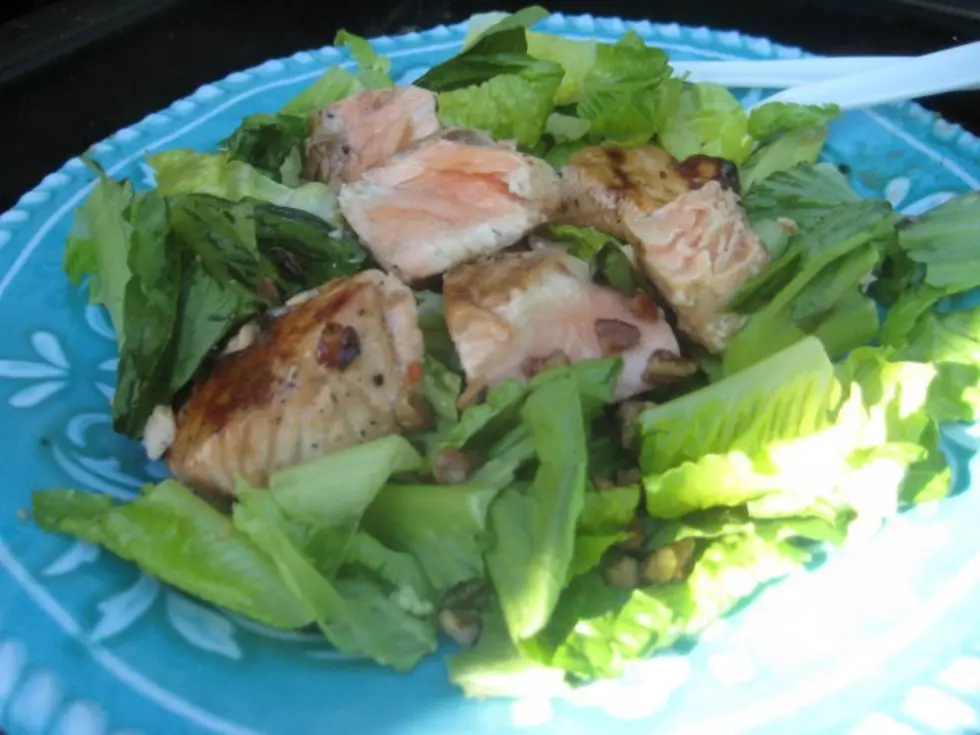 Foodie Friday Grilled Marinated Salmon Salad
Kathy Whyte/ News Radio WNBF
Beat the heat with another terrific light recipe that can be made on the grill, although it can also be done in the oven or on the stovetop in a skillet. I also needed a way to use the fine crop of mixed leaf lettuce I'm getting in my little container garden at the campsite.  The serving here, however, is over Romaine.
Grilled Marinated Salmon Salad (Prep.  time 35 minutes, including marinating time.  Single serving recipe)
1 salmon steak (1/3-1/2 lb.) per serving
1 C. bottled Italian dressing (plus additional for finished salad)
2 Tb. lemon zest
1 tsp. soy sauce
2 C. mixed salad greens
2 Tb. candied pecan salad topping.
salt & pepper
Put the salmon in a zip-top bag with Italian salad dressing, lemon zest and soy sauce.
Coat the salmon and allow to marinate about a half hour in the refrigerator.
Heat grill to medium-high.
If you are keeping skin on, place the salmon skin-side down on the grill and salt and pepper.
Cook on each side about 2 minutes until the salmon is firm to the touch but medium-rare.
Remove the salmon from the heat and allow to rest while the greens are placed on a plate.
Cut the fish into bite-size pieces and place on top of the greens.
Dress with a little more Italian or other dressing, if you want, and scatter the pecan salad topping on top.
Grind a little more black pepper on top, lemon zest or dill if you like.
Can be served warm, room temperature or cold.
You can add whatever you want to the salad component: sliced cucumber, tomato, onion, croutons.
More From WNBF News Radio 1290 AM & 92.1 FM