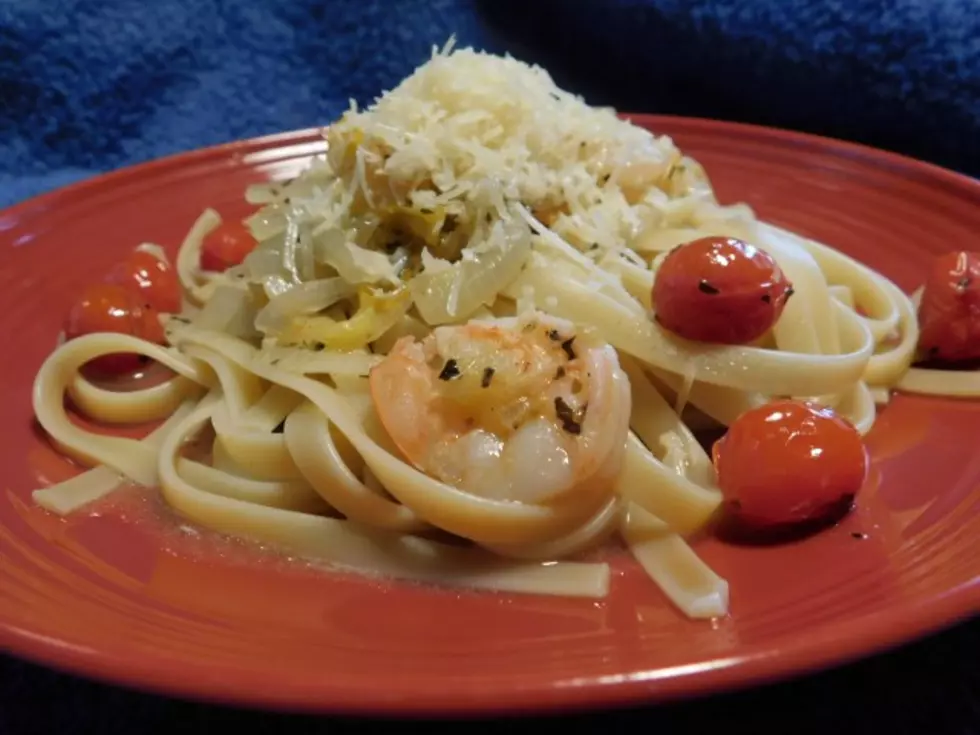 Foodie Friday Garlic Shrimp Fettuccine With Cherry Tomatoes
Kathy Whyte/WNBF News
Enter your number to get our free mobile app
Impress your sweetie with a nice, romantic dinner. The trick is, you both have to eat tons of garlic to cancel each other out!
Garlic Shrimp Fettuccine with Cherry Tomatoes (Prep. time 20 minutes. Serves 2)
8 oz 40-count raw shrimp, peeled and de-veined
1/2 onion, thinly sliced
4 cloves garlic, thinly sliced
2 C. cherry tomatoes, halved
3 Tb. Extra Virgin olive oil
2 Tb. butter
pinch red pepper flakes
2 Tb. dried basil
1 Tb. dried oregano
pinch Kosher salt
1 tsp. ground black pepper.
1/4 . seafood or vegetable stock
2/3 grated Parmesan cheese
1/3 package fettuccine noodles (enough for two)
Bring salted water to a boil in a large pot and cook fettuccine according to package instructions.  While pasta is cooking, heat olive oil in a large saute pan and add butter to melt.  Stir in onions and saute until they start to become tender and add in garlic, herbs, salt and pepper and cherry tomato halves.  Once the tomatoes start to soften, add shrimp and stock.  Turn the shrimp to cook on each side. Drain pasta and toss with the shrimp and tomatoes.  Add Parmesan to thicken the broth and coat the pasta.  Serve hot with a little additional Parmesan and sprinkling of basil on top for garnish, side salad and crusty Italian bread.
FOODIE FRIDAY: Caramel-Stuffed Chocolate Muffins with Sea Salt
More From WNBF News Radio 1290 AM & 92.1 FM