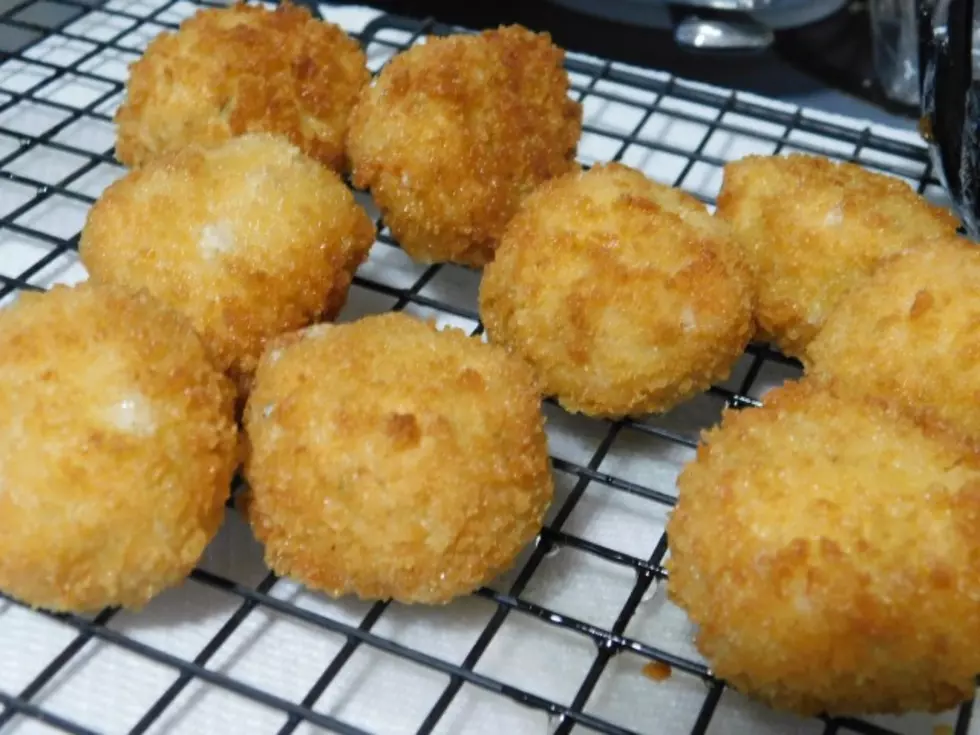 Foodie Friday Fried Cream Cheese Shrimp Balls
Kathy Whyte/ WNBF News
This Foodie Friday appetizer/snack is perfect for when people can gather for parties or game days but also perfect for just a treat for the family at home.
Enter your number to get our free mobile app
Fried Cream Cheese Shrimp Balls (Prep. time about 20 minutes, excluding an hour to allow to set in the freezer.  Makes about 18 appetizers)
4 oz. cooked salad shrimp, thawed, patted dry and roughly chopped
8 oz. softened cream cheese
1 Tb. Old Bay Seasoning
1 tsp. parsley flakes
1 Tb. jarred roasted red pepper (pimento) finely diced (optional)
pinch cracked black pepper
1 egg beaten with 1 Tb. water
1 C. unseasoned fine bread crumbs
1 C. panko bread crumbs
vegetable oil to cover at least 2" deep in a medium stock pot
Mix cream cheese, old bay, parsley, pepper and diced red pepper thoroughly. Fold in shrimp and combine well.  Set up 3 bowls: 1 with fine bread crumbs, second for the egg/water wash and third with the panko bread crumbs.  Spoon out a teaspoon (small spoon) of the shrimp mix and drop into the bread crumbs. (you can use your finger to get mix off the spoon into the bread). Use your dry hand to toss the bread crumbs over the cream cheese/shrimp mixture and roll around until coated. Pick up the coated ball and roll gently into a more round shape in the palm of your hand. Drop the ball into the egg and use your "wet hand" (the one you got cream cheese on dropping the mixture into the first bread crumbs) to coat the ball in the egg then drop into the panko. Use your "dry hand" to toss panko onto the ball and roll around until well coated.  Set each completed ball aside onto a plate that will fit in your freezer.  Freeze at least 1 hour.  This will ensure the cream cheese is set enough not to ooze out of the appetizer before the outside is fried crisp.  The appetizers can be stored, covered in the freezer for several days until ready to cook and serve.
When ready, heat oil in sauce pan to 320-350 degrees. Drop the appetizers gently into the hot oil. Do not crowd pan.  Fry in batches for about two minutes, gently turning to make sure they brown evenly.  Lift out when appetizers are golden brown and you just start to see a little of the cream cheese trying to melt out of the coating.  Drain on wire rack over paper towels.
(*appetizers reheat well in a toaster oven at 400 degrees for about 3-5 minutes until cheese is hot again.  Watch that they don't burn since the bread coating is already cooked)
Serve with cocktail sauce or:
Spicy Sriracha Sour Cream dipping sauce:
1/2 C. sour cream
1 Tb Sriracha or other hot sauce
1/2 tsp prepared horseradish
pinch cracked black pepper
pinch of salt
Stir the hot sauce into the sour cream a little at a time, testing for heat and remember, you're going to add a little more heat with the horseradish.  Likewise, add the horseradish a little at a time until you get the degree of spiciness you like. Mix in the salt and pepper. Cover and refrigerate until ready to use.  This sauce is also really good for dunking onion rings or french fries in.
Five Simple Slow Cooker Meals That Cost $10 or Less
More From WNBF News Radio 1290 AM & 92.1 FM