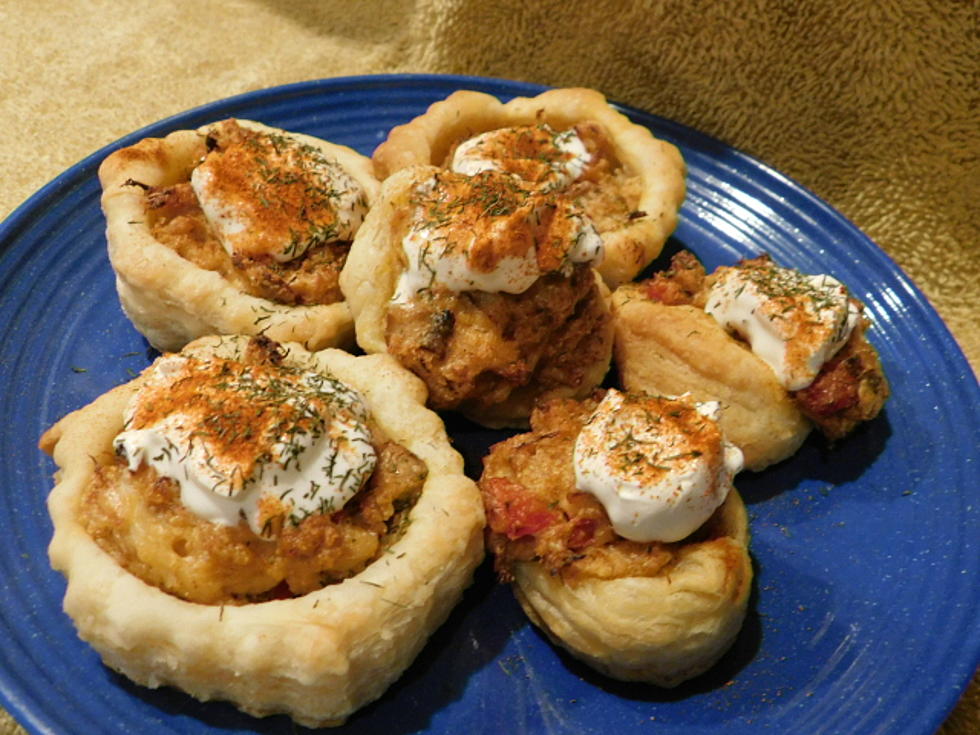 Foodie Friday Crab Cream Cheese Puff Pastry Appetizers
Kathy Whyte/ WNBF News
It's time to think parties and nice little snacks, like little puff pastries with a creamy crab filling.
Crab/ Cream Cheese Puff Pastries (Prep time: 10 minutes plus about 15 minute baking time.  Make 12 appetizers per pastry box.)
1 Tb. olive oil
1 clove garlic finely diced
½ small onion diced
1 C. chopped mushrooms
½ C. softened cream cheese
¼ C. mayonnaise
2 tsp. Old Bay Seasoning
1 tsp. dill
1 Tb. paprika
Salt and pepper
8 oz. crab claw meat
¼ C. unseasoned bread crumbs
1 or 2 packages of frozen puff pastry shells (6 shells per package)
Preheat oven to 400 degrees.  Heat oil in a saute pan and cook the onion, garlic and mushrooms until soften.  While the vegetables cool, combine cream cheese, mayonnaise, Old Bay, paprika and salt and pepper.  Break any large chunks of crab into smaller pieces and stir into the cheese mixture.  Stir in the cooled vegetables and gently fold in enough bread crumb to make the mixture the consistence of crab cakes.  Put the pastries on a parchment-lined baking sheet and put them in the oven for a few minutes until they start to puff.  Take the tray out and cut most of the center portion out, leaving a layer at the bottom of the larger cups.  Fill the cups with the crab mixture and top the smaller rounds with the mixture.  Return tray to the oven for 10-15 minutes until the pastries have puffed and are brown and the crab filling is hot.  Serve with a garnish of sour cream, a sprinkling of dill and an additional sprinkling of paprika.
*I used one box of puff pastry and had a lot of crab mixture left over which I used several ways, including rolled in a soft tortilla for a crab burrito.  Remember, the pastry has to be really cold, even almost frozen so it will properly puff in the hot oven.
LOOK: Here are copycat recipes from 20 of the most popular fast food restaurants in America
Gallery — Every Movie Theater Candy, Ranked:
More From WNBF News Radio 1290 AM & 92.1 FM