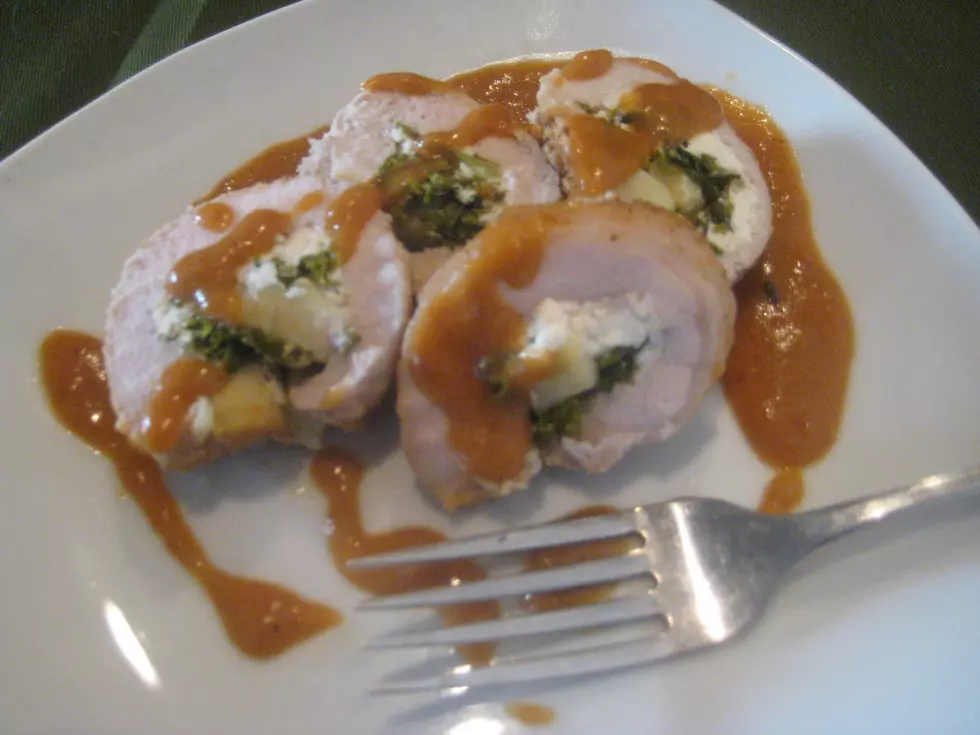 Foodie Friday Apple & Kale Stuffed Pork
Kathy Whyte/ WNBF News
Foodie Friday celebrates the end of the summer season with the favorite flavor pairing of pork and apple. (Remember pork chops and applesauce as a kid?)
Apple & Kale Stuffed Roasted Pork With Goat Cheese (Prep. time: about an hour including knife-work and roasting time.  Serves 4)
1 lb. pork loin or 2 large boneless pork chops
¼ Granny Smith apple, peeled, cored and small dice
1 C. kale, rough chop
4 oz. soft goat cheese
1C. chicken stock
salt, coarse cracked black pepper
2 Tb. butter
2 Tb. flour
Preheat oven to 375. Chop the vegetables. Butterfly the pork and place between plastic wrap and pound to about 1/3 inch thick (if there is a line of fat on top of the pork chop, leave it. It will melt into the meat).  Season with salt and pepper.  Press the goat cheese onto the surface of the meat, coming about a ¼ inch from the edges.  You'll have better luck using your fingers since even soft goat cheese is crumbly.  You could actually make it spreadable by microwaving it for about 15 seconds but don't it get too runny.  Press the chopped kale into the goat cheese and top with the apple dices.  Roll the pork, lengthwise into a log.  Secure the opening with toothpicks or tie with butcher twine.  Place into a baking pan. Salt and pepper the top. Pour the chicken stock into the pan and bake about a half hour. Turn about halfway through and spoon the broth over the top. Add more stock as needed.  Once the roast is done, remove from the oven to rest 5-10 minutes. While the roast is resting, melt the butter in a sauce pan and whisk in the flour to make a roux. Slowly whisk in the pan drippings and stir over heat until the gravy thickens. Slice the pork into medallions and drizzle the pan gravy over top.  Serve with bread and a side of potatoes (I made scalloped potatoes as a treat.)
Area Restaurants Worthy of Franchising
Ranked: Broome County's Best Pizza
If you're from Broome County, you know how fierce the great pizza debate is. Are you a Nirchis fan, or are you team Brozzettis? No matter how many of these pizzas you enjoy, deep down everyone has their favorite.
To finally put the pizza dispute to rest, we've turned to Yelp! To tell us who REALLY is Broome County's Best Pizza...
Will your favorite pizza place make the list? Did Yelp! Leave anything out?
More From WNBF News Radio 1290 AM & 92.1 FM