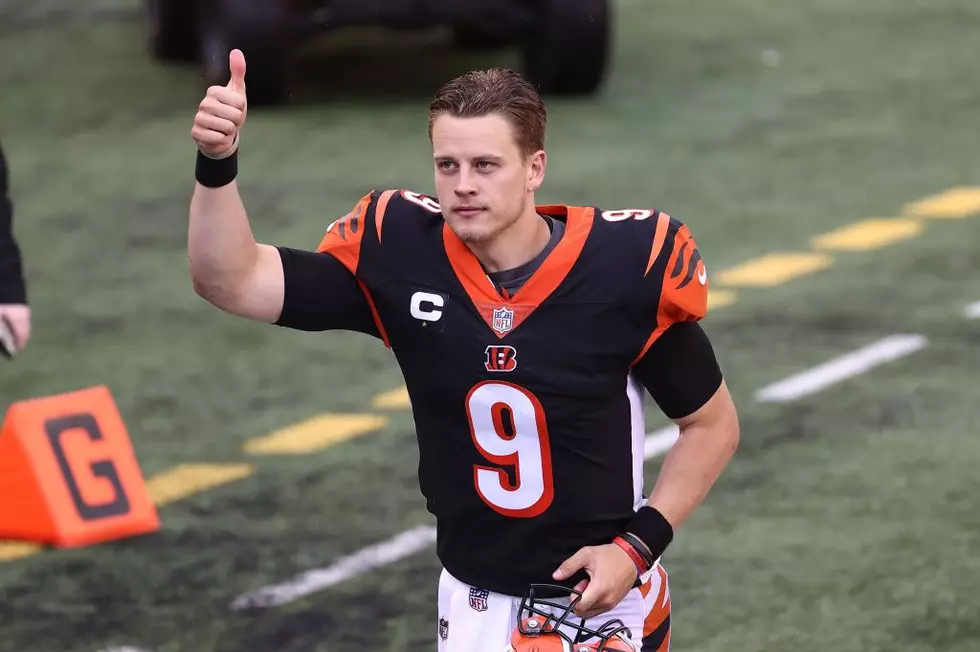 Doug's Sports Rap: Week Four
Getty Images
The NFL's number draft pick Joe Burrows picks up his First NFL Victory, here's what happened in week four
The Buffalo Bills Remain perfect through the first quarter of the 2020 season (4-0) with a 30 to 23 victory over the Las Vegas Raiders, Josh Allen threw two touchdown passes before injury his shoulder
The New York Giants continue to show the same cracks they have had in their secondary allowing a wide open Cooper Kupp catch and run for a 55 yard touchdown as the Los Angeles Rams defeated the Giants 17-9, the Giants are 12 and 40 since the 2017 season.
The Browns downed the Cowboys 49-38, Dak Prescott and the Cowboys put together a great comeback and were down only 3 points, before Odell Beckham Jr ran for 50 yards on a reverse play, and iced the game, it's the first 3 and 1 start for Cleveland since the 2001 season.
The new Brady Bunch, the Tampa Bay Buccaneers led a fourth quarter rally, Tom Brady threw five touchdown passes in a 38-31 win over the LA Chargers.
The Ravens defeated the nameless Washington team 31-17 on the legs of Lamar Jackson who had a 50-yard TD run and threw for two additional touchdowns the Ravens are 3-1.
The Colts defense did their job only allowing one touchdown with about 90 seconds left and defeated the Chicago Bears 19-11.
The Eagles picked up their first "V" of the season with a 25-20 win over the San Francisco 49ers, Carson Wentz threw a 42 yard touchdown pass to Travis Fulgham to secure the win.
The Seattle Seahawks are a perfect 4 and 0 thanks to the arm of Russell Wilson  who went 24 for 34 and passes for 340 yards, and setting a record for TD passes in his first three games, as the Hawks beat the Fish 31-23.
Drew Brees led the Saints to a comeback after being down by two touchdowns, New Orleans scored 35 unanswered to defeat the Detroit Lions 35-29.
The Houston Texans fought back, but it wasn't enough as the Minnesota Viking's Dalvin Cook ran for two touchdowns and picked up their first win of the season, 31-23 over the Texans.
Teddy Bridgewater ran for a touchdown, and threw two TD's as the Carolina Panthers downed the Arizona cardinals 31-21.
The NFL's number draft pick Joe Burrows threw for 300 yards and a touchdown, picking up his first NFL victory as the Cincinnati Bengals defeated the Jacksonville Jaguars 33-25.
KEEP READING: Can't Go To The Gym? Try These Easy Workouts
More From WNBF News Radio 1290 AM & 92.1 FM