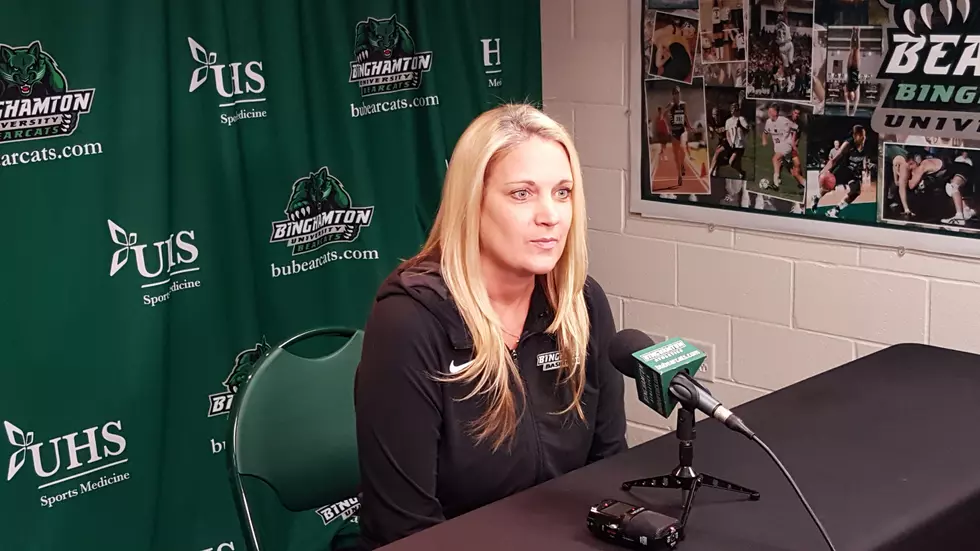 Bearcats Topple Penguins in WBI Tournament Opener
WNBF News/Roger Neel Photo
The Binghamton Bearcats women's basketball team defeated the Youngstown State Penguins by a final score of 70-59 in the opening round of the Women's Basketball Tournament (WBI).  The game was played on campus at Youngstown State, a member of the Horizon League.  The Penguin's season comes to an end with a record of 16-16.  Binghamton moves to 20-11 with the win.
Things did not look good for the Bearcats in the early going.  BU trailed 19-8 at the end of the first period but cut the margin to 36-34 at halftime.  The Bearcats outscored the Penguins 36-23 in the second half to secure the victory and advance into the second round of the tournament.
The Bearcats brought their offensive "A-Game" hitting 29-60 shots for 48.3 percent.  BU also converted 6 of 14 three-point attempts for 42.9 percent.  Imani Watkins paced all scorers with 27 points while Alyssa James tallied 18 points and grabbed eight rebounds for the Bearcats.
Binghamton now awaits the results from tonight's (Thursday's) Northeastern versus Yale match-up to find out when and who they play next.
More From WNBF News Radio 1290 AM & 92.1 FM