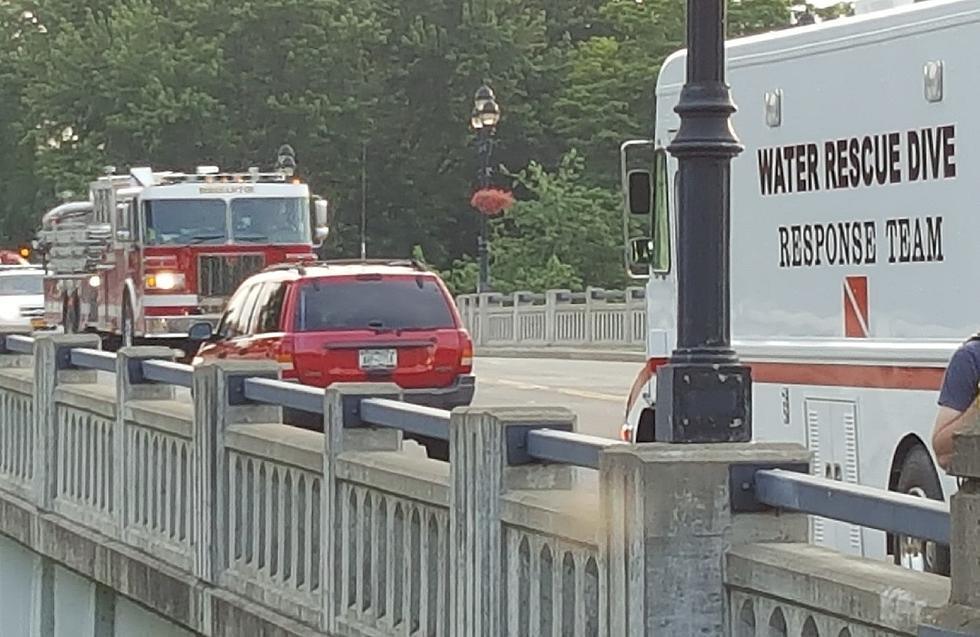 River Search After Report Man Jumped from Binghamton Bridge
Photo: Roger Neel/WNBF News
An extensive river search was launched from Binghamton to Endwell in an effort to find a man who may have jumped from the city's Memorial Bridge.
A woman called 911 around 5 p.m. Thursday to report she believed a man had plunged into the Chenango River from the south side of the span.
Several minutes elapsed from the time of the purported incident until the 911 call was placed.
The bridge that connects Riverside Drive to North Shore Drive was shut down to all traffic as police and fire departments established a command post for the possible rescue operation.
Two boats from the Binghamton fire department, along with boats from the Johnson City, Vestal and Endwell fire departments were used to search the Susquehanna River from Confluence Park.
Dive teams from the Broome County Sheriff's Office and New York State Police searched the water under the bridge.
The river around the bridge is fairly shallow in most places with the deepest spot reported to be about five feet deep.
A trail next to the river a short distance from the bridge was reported to be wet, suggesting that someone who may have been in the water had managed to get out on his own.
A drone was utilized in the search. The camera on the aircraft provided a clear view of the bottom of the river but no person was observed.
The search was suspended after about two hours and the Memorial Bridge was reopened to traffic.
For breaking news and updates on developing stories, follow @BinghamtonNow on Twitter.
More From WNBF News Radio 1290 AM & 92.1 FM