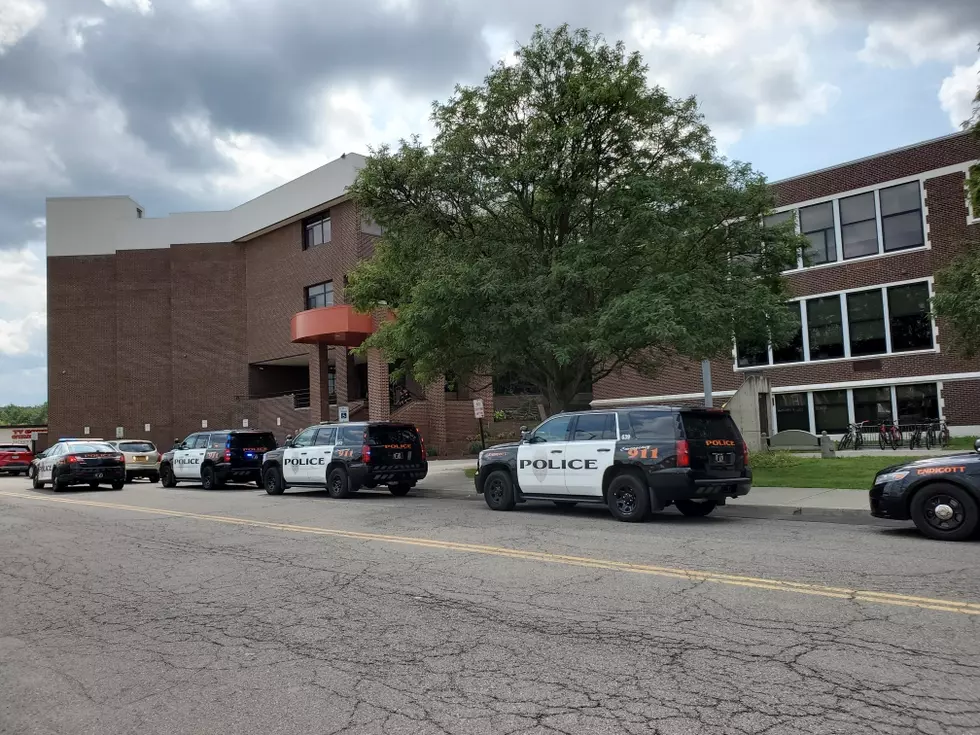 "Shelter in Place" Order Issued at Union-Endicott High School
Photo: Bob Joseph/WNBF News
Several police units were sent to Union-Endicott High School after a disturbance was reported.
The incident at the school on East Main Street was reported shortly after 1 p.m. Tuesday.
Six Endicott police department vehicles responded to the call. The police units lined Washington Avenue on the east side of the school.
Endicott police chief Patrick Garey was among those who responded after the school resource officer requested assistance.
Union-Endicott school superintendent Nicole Wolfe said there had been a verbal altercation involving students.
Wolfe said one student contacted a parent who came to the school to discuss the matter with the principal.
The superintendent said a "shelter in place" directive was issued as a precaution. It lasted for about 45 minutes.
Police officers could be seen discussing the situation with several people outside the school's Washington Avenue entrance.
A person who was across the street at a United Health Services facility said he heard some loud shouting for a time during the dispute.
Wolfe said although those involved in the incident had argued, no threats had been reported.
Although it was not clear how many students engaged in the dispute, Wolfe said administrators had the names of five who would be interviewed.
The superintendent said Union-Endicott High School students now have identification badges so officials know who is authorized to be in the building.
The badges were issued in the aftermath of a May incident during which a person who was not a student entered the school.
This story was updated to include information provided by the Union-Endicott school superintendent.
For breaking news and updates on developing stories, follow @BinghamtonNow on Twitter.
More From WNBF News Radio 1290 AM & 92.1 FM