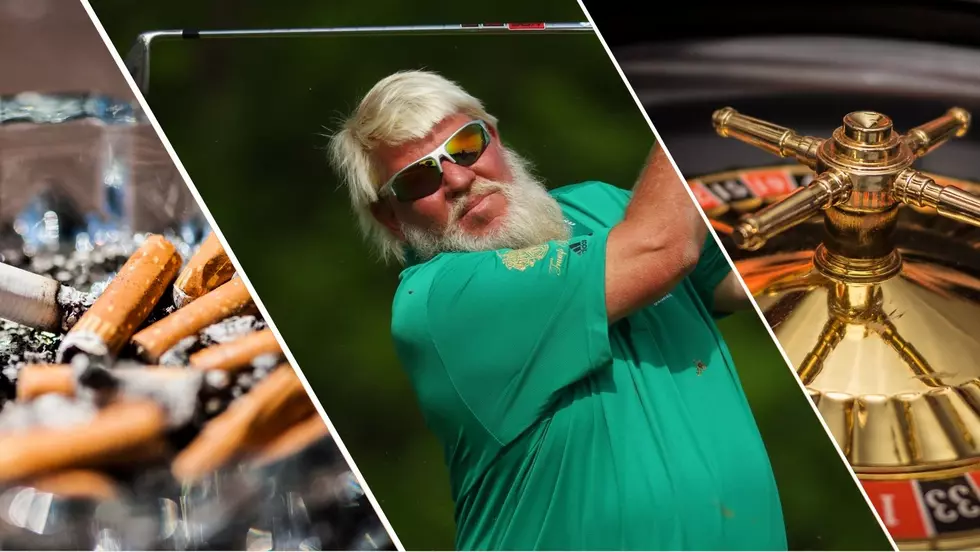 DICK'S Sporting Goods Fan-Favorite Absolutely Lives It Up At PGA Championship
Photo by Andrew Redington/Getty Images, Canva
I look forward to the DICK'S Sporting Goods Open every year and I'm so happy that things are going back to normal at EnJoie Golf Course. It's happening the week of August 15th with the final round on Sunday, 21st.
One of the Southern Tier's favorite golfers (and mine too) is also coming back this year, the incomparable John Daly. He's known for having a great time both on and off the golf course and this past weekend (May 21) was no exception.
Daly was in the field as a past champion at the PGA Championship in Oklahoma. He got out to a -2 round, even leading at one point, but ended up at +2 for the day. He ended up at +8 on Friday and didn't make the weekend.
But while his performance started bright but fizzled out, it was his habits on the course and having a good time off of it that brought a smile to the faces of golf fans. Daly will let something like missing the cut stop him from having a great time.
So what did he do? Glad you asked. It was just your average weekend of Hooters, casinos, and smoking cigarettes.
John Daly's On-Course Diet
All that "healthy" food helped get him off to a fast start on Thursday at the PGA Championship and was the leader early on before finishing at +2 for the day.
John Daly Hits Hooters And The Casino
He did what any pro golfer does after a good round and went to Hooters for wings and delightful conversation with the waitresses. Since the night was still young and he didn't have a tee time until 12:30 on Friday afternoon, he headed to the casino to see if he could keep his run of good luck going.
Hopefully he had good luck at the casino because it wasn't meant to be on Day 2 because he ended up at +8 for the tournament and missed the cut.
Missing out on the weekend wasn't going to stop him from living his best life at the PGA Championship.
Rippin' Darts On ESPN
This year during the PGA Championship broadcast, Joe Buck and Michael Collins took a page out of the Payton and Eli Manning playbook and would have guests join them during the broadcast. They would to talk to invited guests and talk about everything that was happening on and off the golf course.
he joined them from his RV
So what will he do when he comes to the DICK'S Sporting Goods Open in August? Last year, he joined Old Dominion on stage. You might even see him playing at the 19th hole after the Zac Brown Band concert on Friday, August 19th. You might even find him at Stu's cooking chicken wings and jamming at the bar.
I don't know what he'll do when he's here but I can't wait to find out. What about you?
John Daly's Loud Pants Also Didn't Disappoint At The PGA Championship... Take A Look At His Best Pants Over The Years
FORE! Past Winners of The Dick's Sporting Goods Open
[Credits: Will Brinson via Twitter, Golf Monthly, MyBookie via Twitter, Tim Reilly via Twitter, The Daily Caller]
More From WNBF News Radio 1290 AM & 92.1 FM