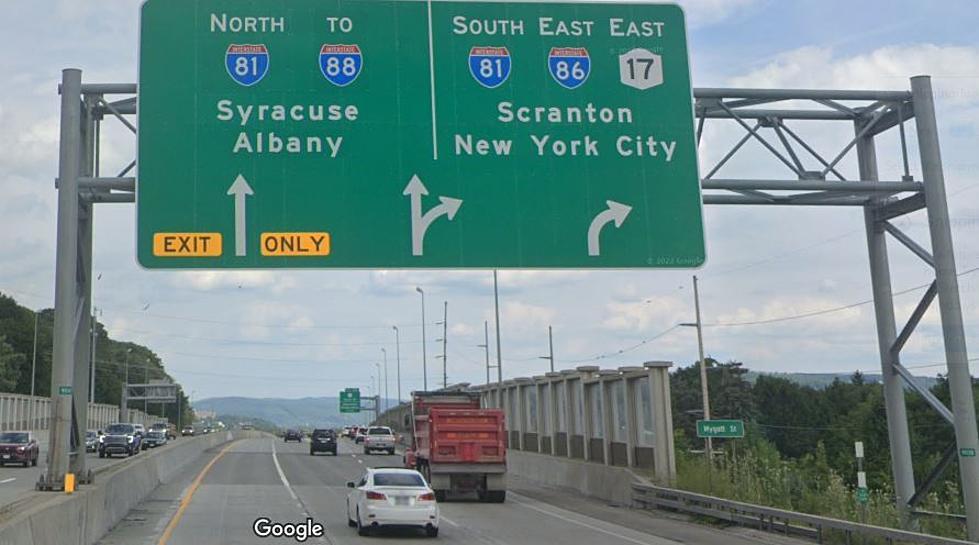 This Is The Shortest Interstate Highway In New York State
Google Maps Street View
New York State is home to several Interstate highways, including one that is an ongoing project. That ongoing project is Interstate 86 which is slowly replacing Route 17 which runs from Mina at the New, York - Pennsylvania border to the New Jersey state line as it intersects with I-287, connecting with the Garden State's Route 17.
Route 17/Interstate 86 extends for 397 miles and is the longest state route in New York State running through 11 counties. The longest Interstate in the Empire State is Interstate 90 at 381.7 miles according to the New York State Department of Transportation. That's taking into account the Berkshire Section and the free section of I-90.
New York State has 31 Interstate highways according to Wikipedia, divided into nine main routes and 22 auxiliary routes. The nine main routes consist of I-78, I-81, I-84, I-86, I-87, I-88, I-90, I-95 and I-99.
So, now that you know what the longest Interstate in New York State is, what is the shortest Interstate? Well, the  New York State Department of Transportation lists I-587 as the shortest Interstate. It connects the New York State Thruway to Route 28 in Kingston, and is only 1.2 miles long.
Want some more New York State Interstate trivia? The NYS DOT notes that primary Interstates are designated with a two digit number. If the number is odd, that means the highway is a north-south route. Even numbered Interstates are east-west routes.
The auxiliary routes have a three digit designation. Those routes are loops or beltways in urban or metropolitan areas, and the NYS DOT states:
If the first number is even, the Interstate goes through an urban area and often reconnects with the two-digit Interstate from which it originated... If a three-digit Interstate begins with an odd number, it goes into an urban area and ends there. - NYS DOT
Ans speaking of highways, do you remember this 1951 video touting the benefits of the "Thruway" (Route 17) for the Binghamton area? Not all the benefits of this future highway had the lasting effects as the video promised.
35 Awesome Southern Tier & Northern PA Town Welcome Signs
The Five Most Confusing Traffic Mergers in Binghamton
More From WNBF News Radio 1290 AM & 92.1 FM