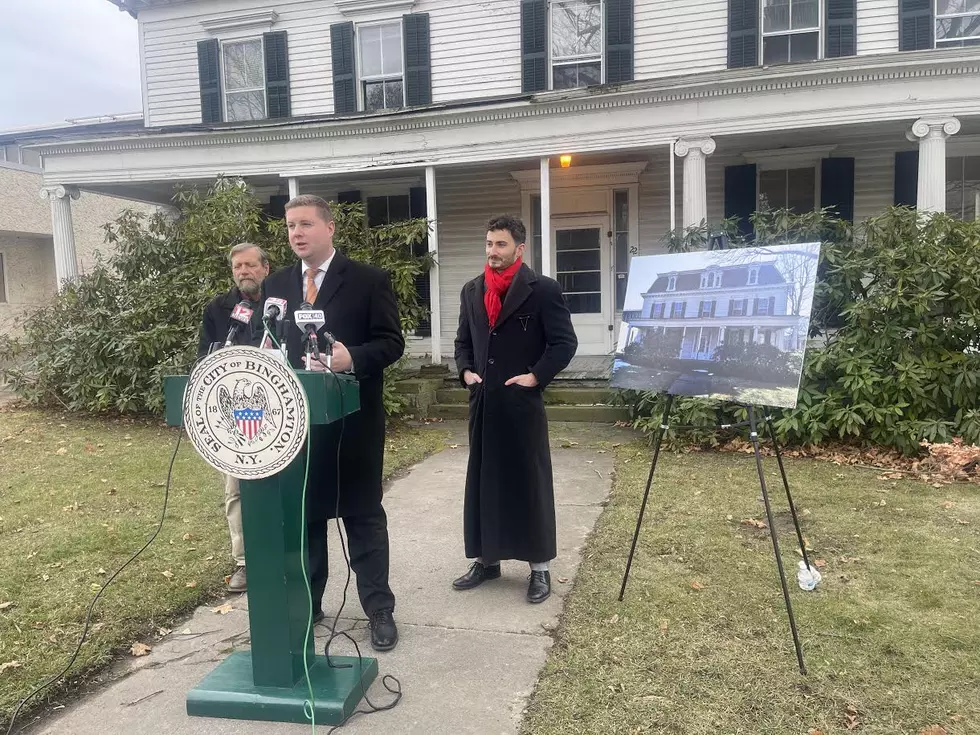 Historic Binghamton Home of Leroy, Hawley and Collier to be Revived
Photo provided by the Binghamton Mayor's office.
An over 100-year-old home next to the Roberson mansion on Front Street and owned by the Roberson Museum is getting some much needed work to restore it and give it new life.
The Randall House will be getting $100,000 from the City of Binghamton to help Roberson's plans to stabilize and rehabilitate the historic home.  
The house at the intersection of Front and Leroy Streets on Binghamton's west side was built in the 1830s, is a registered landmark, is one of the oldest buildings in Binghamton and the past home for some prominent Binghamtonians, namely Daniel Leroy, John Collier and James Hawley… you may recognize them at least for the streets bearing their names.  
The house was sold to Roberson Museum in the 1960s by Hiram Randall, resulting in the white, clapboard home with stately Greek columns being named the "Randall House."
Roberson Museum and Science Center executive Director Michael Grasso says the house has been sitting vacant for years with the various additions to the original structure falling into various stages of decay.  Grasso says for a while they weren't sure what they were going to be able to do with the historic house that Roberson Museum is charged with preserving.
With the new partnership with an arts group and the infusing of finding from the City, the house that most recently served as galleries, retail and office space and is to become home to Discoveries in Sculpture's studios following restoration. 
Rehabilitation will include repairs to the house's structural foundation and work to reinforce the 200-year-old wood beams.
Discoveries in Sculpture was established by Jerome Weinberger and "creates evocative sculptures from natural and man-made objects in the local environment."
The $100,000 for the restoration project from the City of Binghamton is coming from the Community Development Block Grant CDBG allocation.
"Hey, Kids! Who Wants to Go To a Museum?" They Will Say a Big "Yes" to These New York Favorites
Here is a list of a dozen New York State museums that kids and teenagers will enjoy to the fullest. They are all pretty much hands-on museums and all encourage interaction with the young visitors.
CHECK THEM OUT: 100 years of Christmas toys, gifts and fads
More From WNBF News Radio 1290 AM & 92.1 FM