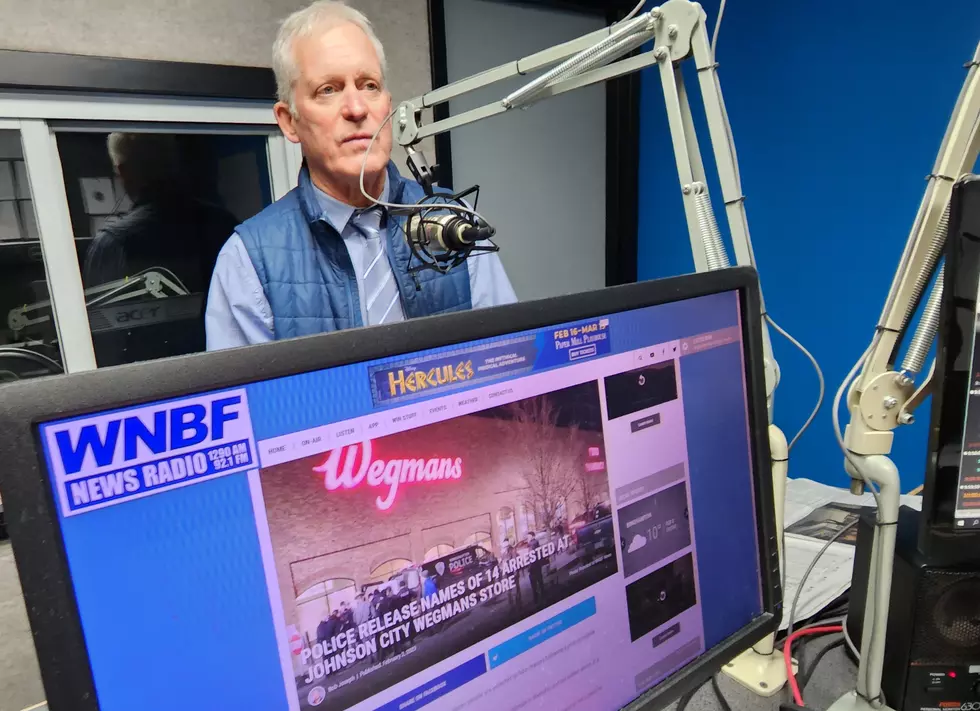 Former Binghamton Mayor Discusses His Arrest at Wegmans Protest
Photo: Bob Joseph/WNBF News
Matthew Ryan, a former mayor of Binghamton, was one of 15 people arrested during a protest outside a Wegmans store in Johnson City.
Area residents organized the demonstration in response to violent incidents involving police in Binghamton and elsewhere in the United States.
Village police were assisted by officers from several agencies, including New York State Police and the Broome County Sheriff's Office, in clearing Wegmans property after the store closed early Wednesday evening.
During a WNBF Radio interview Friday, Ryan - an attorney - said he had been called "to be a legal observer" of the protest. He said he had done some shopping in Wegmans before he "stood off to the side" next to a WSKG Public Radio reporter to watch what was going on.
Ryan acknowledged that at one point he engaged in an argument "with a woman who was calling the demonstrators animals." He said there were "a few obscenities tossed back and forth" between the two during their brief interaction.
Ryan said he was some distance from the protesters in the store parking lot as the demonstration was "winding down." He said a police officer approached him and said "you have to leave right now."
Ryan said he "just wanted to be able to observe what's happening." He said the officer asked: "So you're not leaving?" Ryan said he was arrested after he said "I don't think I should have to leave."
A handwritten appearance ticket given to Ryan indicated he was going to be charged with trespass and resisting arrest.
According to a police department news release, Ryan "in fact did not resist arrest." The release indicated "resisting arrest" was written by mistake and that the "appropriate charges of trespass and obstructing governmental administration will likely be filed in the coming days."
Late Friday, village police released a new statement saying "we wish to issue a retraction of some of the statements" made about Ryan.
The agency said "more extensive review of the video footage revealed that Mr. Ryan did buy groceries prior to the start of the event, and we apologize for stating that he lied about that fact." The department said Ryan had been "misidentified" as someone else who had not entered the store.
Police said Ryan had entered Wegmans about 15 minutes before the protest and purchased groceries. The statement said he "ran presumably to his car and dropped off his groceries before donning a winter hat and approaching the protest area."
The news release said Ryan was told several times by officer "that he needed to leave the premises." The former mayor "was taken into custody for trespass" when he refused to leave the property, according to police.
LISTEN: Matthew Ryan discusses the Wegmans protest in a WNBF Radio interview on February 3, 2023.
Enter your number to get our free mobile app
Contact WNBF News reporter Bob Joseph: bob@wnbf.com or (607) 545-2250. For breaking news and updates on developing stories, follow @BinghamtonNow on Twitter.
103 iconic photos that capture 103 years of world history
Stacker
gathered some of the most iconic images from the past 103 years, beginning in 1918 and leading up to 2020 during the COVID-19 pandemic.
LOOK: These Are the Richest NFL players
To uncover the richest NFL players,
Stacker
consulted
Celebrity Net Worth
and ranked them by their 2022 net worth, calculated using a proprietary formula.
LOOK: Stunning vintage photos capture the beauty of America's national parks
Today these parks are located throughout the country in 25 states and the U.S. Virgin Islands. The land encompassing them was either purchased or donated, though much of it had been inhabited by native people for thousands of years before the founding of the United States. These areas are protected and revered as educational resources about the natural world, and as spaces for exploration.
Keep scrolling for 50 vintage photos that show the beauty of America's national parks.
More From WNBF News Radio 1290 AM & 92.1 FM