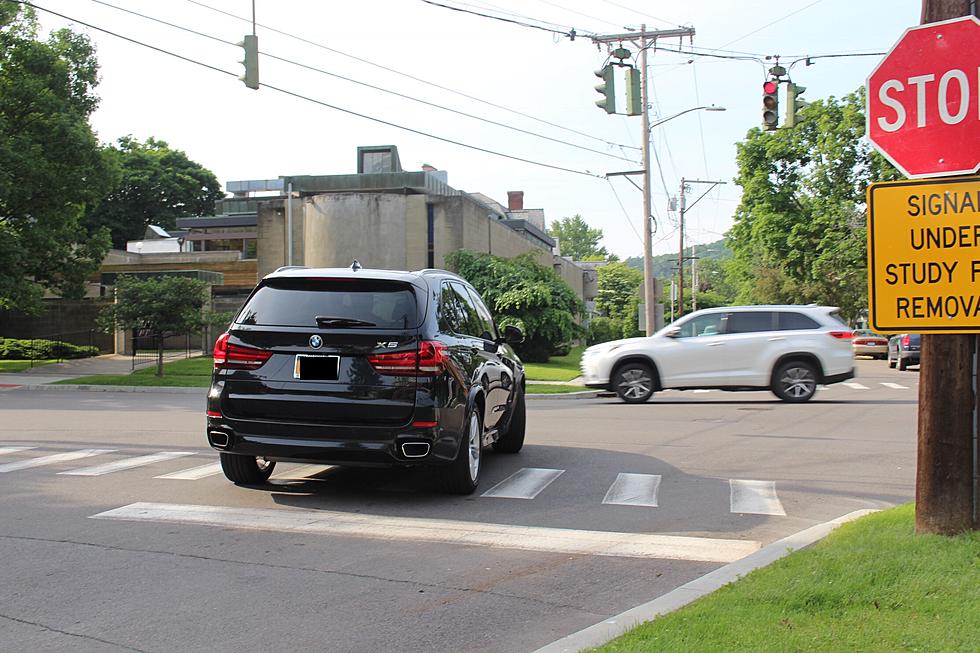 City May Remove Riverside Drive Signal Near Synagogue
Photo: Bob Joseph/WNBF News
A Binghamton rabbi is concerned that a traffic signal located near a West Side synagogue could be replaced with a couple of stop signs.
The city traffic board is considering removing the signal at the intersection of Riverside Drive and Murray Street.
Signs were posted a few days ago alerting people that the a study was being conducted to determine the fate of the signal.
Rabbi Zev Silber of Beth David Synagogue said eliminating the light would affect members of the congregation.
Silber said "it's a very difficult street to cross," noting Riverside Drive's heavy traffic volume, especially during peak travel periods in the morning and afternoon.
Since the traffic study signs were put in place last week, the signal has been switched to "flashing" mode with stop signs placed on Murray Street. Silber said without the signal operating, it sometimes is difficult for motorists to safely make a left turn onto Riverside Drive.
Deputy mayor Jared Kraham, who chairs the city traffic board, said the signal review is just getting underway. He said there will be outreach efforts to seek opinions of people who live in the neighborhood before any decision is made about removing it.
Kraham said the traffic board also is conducting a study to determine whether a signal at Broad Avenue and East Frederick Street should be removed.
More From WNBF News Radio 1290 AM & 92.1 FM