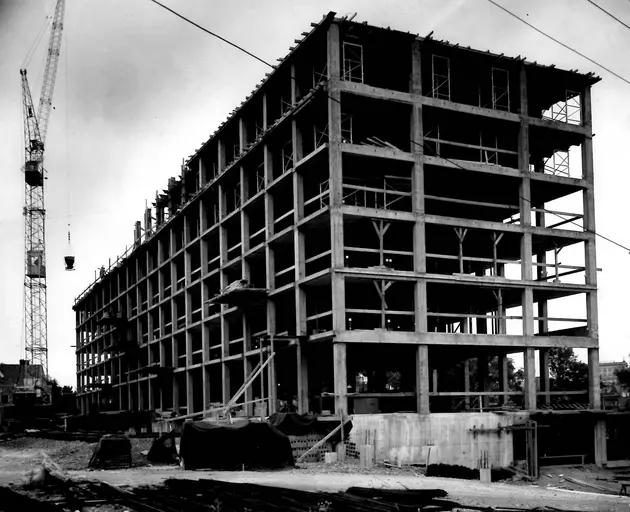 New Binghamton Hotel Was Big News in the 1950s
The Sheraton Inn Binghamton under construction in 1958. (Photo: Broome County Historical Society)
As demolition crews slowly chip away at what had been a luxury hotel on Binghamton's West Side, it's a good time to look back on how it all began.
The Front Street project was big news when it was announced in the summer of 1955.
A Binghamton Press story by Tom Cawley covered the official announcement of the proposed 250-room hotel on a site that was then occupied by three homes.
The story noted the Sheraton would be the first hotel built in Binghamton in 42 years. The estimated cost was $3 million and the place was expected to open in March 1957.
The hotel design was altered somewhat from the original plans and the project wasn't completed until 1959.
When it finally opened in late May of that year, a special section in The Sunday Press described the Sheraton as "an exciting new idea in hotel living to serve the Tri-City area."
The hotel was "just across the Chenango River from downtown Binghamton - but a world removed from the clamor of the city."
The WNBF radio and television stations, which at the time were owned by Triangle Publications, occupied a section on the first floor and basement at the north end of the building.
The hotel closed after a few decades. The once-proud building was utilized for other purposes for a time but it never regained its original glory or prominence.
Now, the site once again is being cleared for a new project. Newman Development Group of Vestal says the River Landing at 50 Front project will include 122 apartments and commercial space. It's expected to open in early 2019.
For breaking news and updates on developing stories, follow @BinghamtonNow on Twitter.
More From WNBF News Radio 1290 AM & 92.1 FM