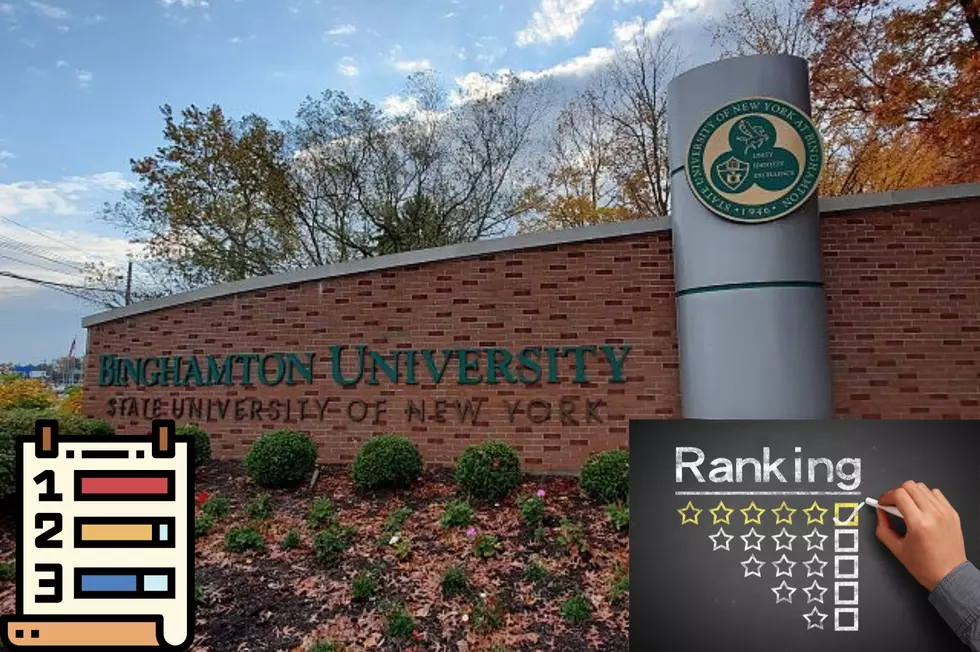 Binghamton University Cracks Top 100 Universities In America List
Bob Joseph/WNBF and Canva.com
For those wondering exactly how good of a school Binghamton University is, the U.S. News and World Report has an answer for you.
According to the U.S. News and World Report college rankings for the 2022-2023 academic year, Binghamton University ranks 83rd out of all National Universities, just behind fellow SUNY school Stony Brook University, tied for 77th. Among only public schools, Binghamton University ranked 35th.
And according to the U.S. News and World Report, Binghamton University finished in the top 100 of a number of other categories. The school finished 50th for accounting, 51st in best colleges for veterans, 73rd in best value schools, 68th for most innovative, 67th in nursing, and 94th in engineering. Additionally, and perhaps the most attractive reason for potential students to consider Binghamton University, it finished 83rd in the least amount of debt for students.
It's no secret that Binghamton University is among the best schools in all of New York, particularly out of all public schools. As Binghamton residents can attest to during the school year, there are almost 15,000 students enrolled in undergraduate programs. Add in the graduate students and there's no doubt as to the reason Vestal Parkway starts to really slow down at the end of summer.
Aside from the logistical problems that many students have on Vestal Parkway and the sudden appearance of young crowds flocking to State Street on the weekends, Binghamton residents should feel proud to host such a successful university. It may cause some extra hassles during the school year, but having bragging rights over basically every other SUNY town and most of the private universities in the state is worth the extra trouble.
Take a Look at 2022's Luma Projection Arts Festival
A Look Around Binghamton's 2022 Porchfest
A Look Around Binghamton's 2022 Porchfest
More From WNBF News Radio 1290 AM & 92.1 FM