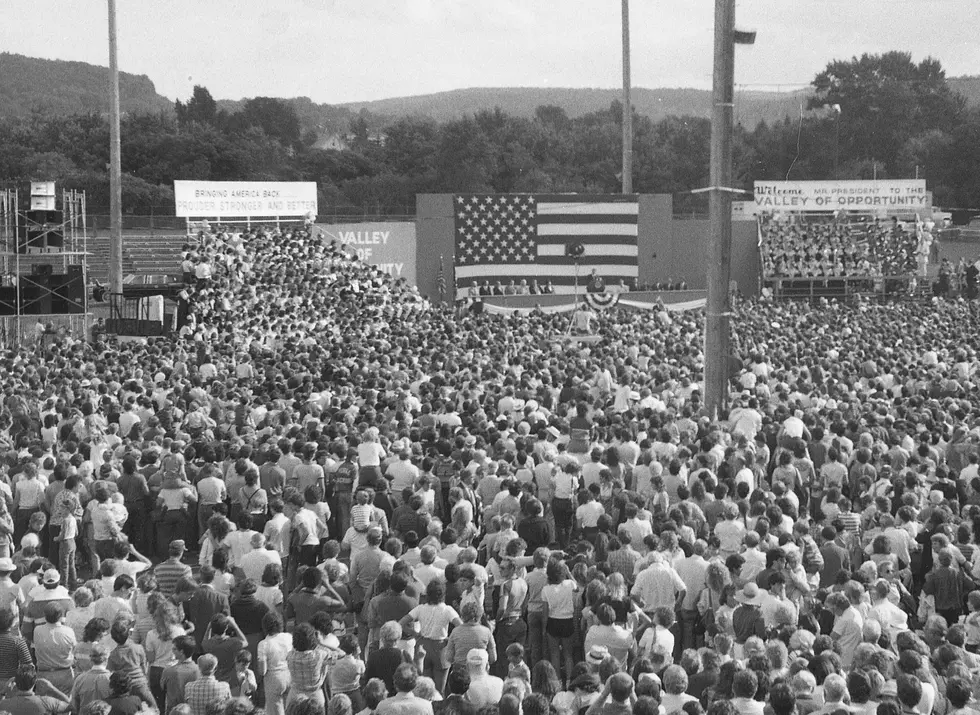 35 Years Ago: President Ronald Reagan Visits Endicott
Photo: Bob Black/WNBF News
It's been three-and-a-half decades since tens of thousands of people gathered to hear President Ronald Reagan speak at Union-Endicott High School.
Reagan appeared at a campaign rally at Ty Cobb Stadium on September 12, 1984. The president was touring upstate New York as he sought a second term.
Reagan toured the IBM Endicott North Street manufacturing complex before delivering a 22-minute talk at the school on East Main Street.
In the presidential diary from that day, Reagan wrote: "There were a few dissidents but they were almost invisible in that crowd."
Vincent Carlini was a supervisor at IBM at the time of Reagan's visit. On the 35th anniversary of the event, Carlini recalled: "We were all very excited."
Carlini on Thursday recalled that IBM employees were advised to be "polite" and "courteous" while Reagan was at the plant. Carlini now works as a custodial supervisor at the high school.
Clint Densmore, another current high school employee, said he was in 10th grade when Reagan visited. He said he decided to go for a plane ride out of Tri-Cities Airport instead of attending the presidential campaign event.
Looking back, Densmore expressed some regret that he didn't show up for Reagan's visit to his school. He said: "I should have been here."
While the stadium was filled to capacity on that late summer day in 1984, the place was quiet and deserted when a reporter visited 35 years later.
WATCH President Reagan's 1984 appearance at Union-Endicott High School.
For breaking news and updates on developing stories, follow @BinghamtonNow on Twitter.
More From WNBF News Radio 1290 AM & 92.1 FM