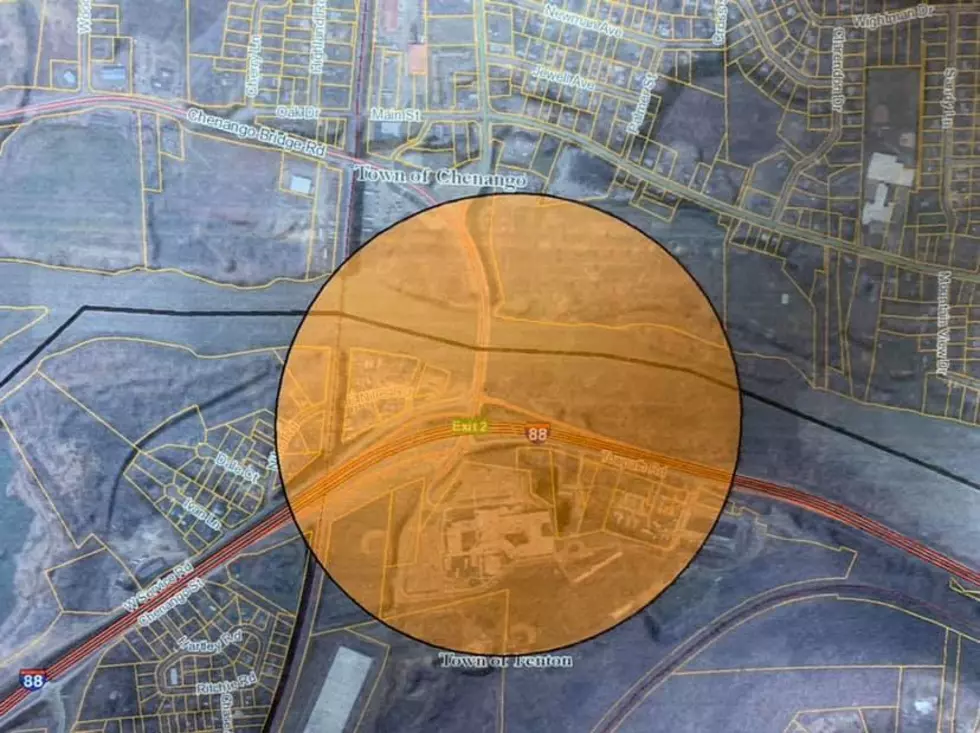 UPDATE: Tractor Trailer Driver Dies in Monday Morning Crash in Chenango Bridge
Broome Emergency Services
As of 4 p.m. on Monday, the evacuation order has been lifted, according to Broome County emergency officials.
A tractor-trailer driver is dead following a Monday morning crash that caused the evacuation of 80 homes in Chenango Bridge.
According to Broome County Sheriff David Harder, the driver of the tractor trailer has died after the compressed natural gas truck hit two deer in the road and rolled over at around 1 a.m.
Harder says the 51-year-old man was ejected from the vehicle and died instantly.  His name has not been released pending notification of family.
Broome County Emergency Services officials issued a mandatory evacuation of all residents in a quarter mile radius around Interstate 88 at Exit 2 (Chenango Bridge) as natural gas was heard leaking from the truck.
Residents on Ivan Lane, Dale Court, Niles Road and East Niles Roads were evacuated to the Hillcrest Fire Station on Avenue A in Hillcrest.
Residents on Towpath Road evacuated to the Port Crane Fire Station on Route 369 across from Chenango Valley State Park in Port Crane.
Another Red Cross Evacuation Center was opened at the Chenango Bridge Fire Department, 17 Kattelville Road.
As of 11 a.m., Sheriff Harder said the Interstate was expected to remain closed "at least for a couple hours" as several trucks were off-loading the natural gas before the accident reconstruction team could conduct their investigation and the truck and debris removed from the highway.
Hundreds of residents were impacted by the evacuation order, Chenango Valley and Chenango Forks School Districts cancelled classes for the day and countless motorists were detoured in both east and westbound traffic on Interstate 88.
Sheriff Harder thanked all the emergency responders who were called to the scene and went door-to-door to evacuation residents as well as the residents who cooperated with the evacuation orders in the early-morning hours.
Harder pressed the seriousness of the situation saying New York State Electric and Gas, telephone and cable utilities were quick to cut service and cell phones were turne off to avoid any kind of spark in the area of the leaking gas.
Aside from the driver who lost his life, there were no reports of injuries.
More From WNBF News Radio 1290 AM & 92.1 FM