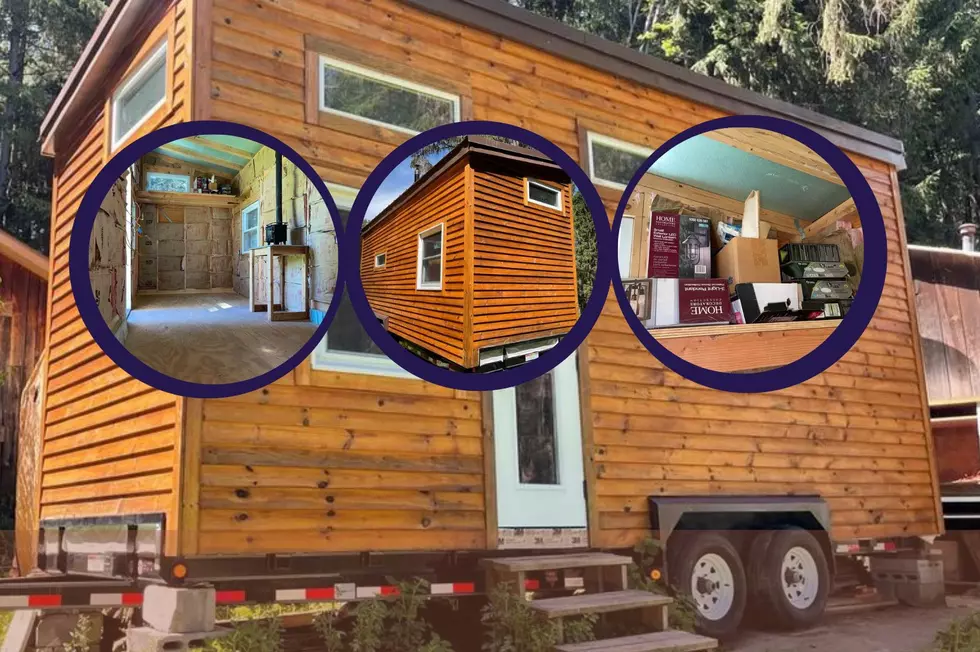 Peek Inside This Quaint Tiny House for Sale in Binghamton
Casey Marvin via Southern Tier - Buy/Sell/Trade Facebook
With the economy what is it, I can't help but think that all of the tiny house owners of the world are the ones laughing at those of us who live in traditional homes right now.
There was a time when tiny houses weren't as accepted as they are right now and people scratched their heads and were quite vocal about how they didn't understand how someone could actually want to live in such a small space.
As our bank accounts are being squeezed by current inflation prices and we're struggling to keep up with electric and fuel bills, tiny houses are looking more appealing, aren't they?
In 2016, Casey Marvin and her husband started to build a tiny house with the help of both their fathers and they absolutely love their tiny home but while their family has expanded, their home has not and so they've decided that the time has come to pass along their 200 square feet of tiny living to the next person.
In a post on the Facebook page for Southern Tier - Buy/Sell/Trade New & Used Items!, Casey mentioned that her family's adorable tiny home might be perfect as a "moveable vacation, lake, Airbnb, rental, hunting or office cabin/camper."
For under $30,000 you could be the proud new owner of an almost completely finished tiny house. This tiny house is approximately 165 square feet with another 50 square feet in the loft area. The inside width is approximately 7.75', the inside height on the short side of the tiny home is 8.6' while the taller side of the house is 10.6'. The length of this tiny space is 22.33'.
The tiny house is on wheels and comes with a 22 foot double axle trailer which was purchased new in 2016 and comes with a title.
Inside, you'll find a large sleeping loft that's been completed along with a storage loft that has been partially installed. The tiny house is mostly insulated with r15 faced insulation and the wiring is roughed in and still needs some work, but most of the outlet wires and leads for lights and switches are in place.
This tiny home has screened windows with the exception of one window. It also comes with a cubic mini wood stove that's already been installed as well as metal strapping on all sides and hurricane ties on the rafters.
Marvin's post for the sale of her family's tiny house also mentions that it "comes with a one piece shower unit, scissor jacks, small rv cook stove, stainless steel sink basin, lights, breaker box, rv power box, insulation, and some misc building materials."
Interested in learning more about the Marvin's tiny house? You can reach out to Casey Marvin through Facebook here.
Peek Inside This Quaint Tiny House for Sale in Binghamton
Listed for sale
by Casey Marvin of Binghamton, this adorable tiny house offers a slice of simplicity.
Take a Look Around Binghamton's Ostentatiously Luxurious Crocker Hill Estate
Is it possible to live in the lap of luxury in Broome County? It sure is and this simply stunning estate on Crocker Hill Road estate proves it.
Listed with Michael DeRosa
of Michael Derosa Exchange Llc, this 13,831 square foot mansion sits on 20 acres of pristine land and is listed for the sale price of $2,250,000. This property is the definition of opulence.
Legendary Catskill Game Farm Property Searching for Its New Owner
Before it was known as the birthplace of the famous April the Giraffe, the Catskill Game Farm was a summertime adventure for kids and their families for over 70 years. Now, not only could you own April's birthplace, but you could live out all of your childhood fantasies at the Catskill Game Farm. Presented by Jeanne Rakowski with Corcoran Country Living,
the asking price
for the Old Catskill Game Farm which is located at 400 Game Farm Road in Catskill, New York is $3,600,000.
More From WNBF News Radio 1290 AM & 92.1 FM