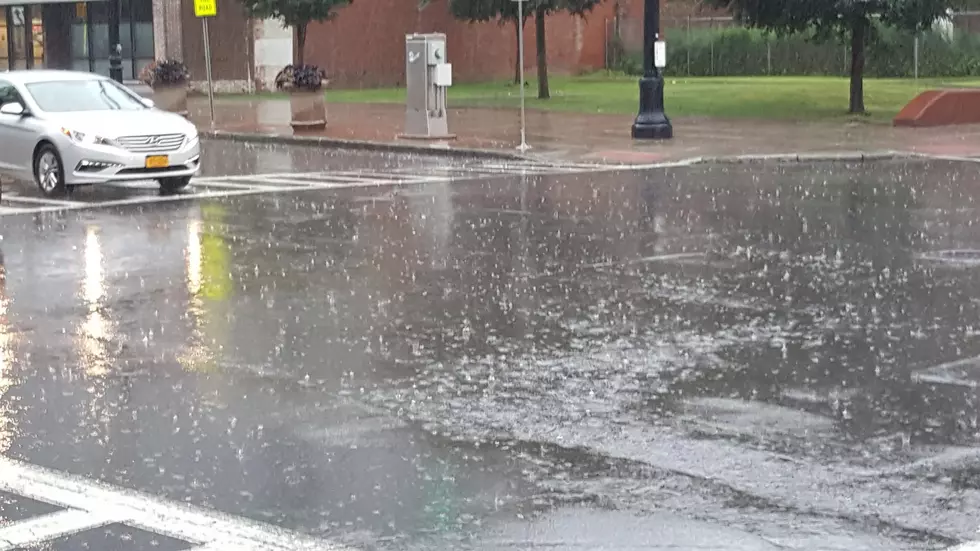 Soggy Southern Tier But No Major Transportation Issues
WNBF News/Roger Neel Photo
No major transportation issues are being reported following a day-long rain in the region.
The National Weather Service in Binghamton had issued flood watches and advisories into the morning hours for the Twin Tiers but any flooding reported was mainly poor drainage issues and areas where minor flooding is common.
Underpasses and other areas with runoff problems, including the Front Street, Binghamton gateway where there is frequently ponding of water across the Southbound roadway, have had drainage issues but no closures.
Motorists should be aware of the potential of water across the road that can cause hydroplaning and loss of control.  Slow down when approaching water on the road and never drive around any barricades.
Emergency Services officials during the morning, however, had reported no known road closures due to flood water or debris.
There had been widespread power outages as well September 5 but New York State Electric and Gas on their outage reporting site early September 6 listed only a few dozen customers in Chenango County, mainly Smithville Flats, were without power in the Southern Tier.
An electric wire problem in the far western portion of Broome County Monday morning shut down a lane on route 434 for a while.
Broome county fire departmental communications reported that there was a wire down into a tree in the Castle Gardens area of Vestal on Monday morning shortly after 9 o'clock.  Responding crews and witnesses say they saw smoke and some flames coming from the trees and a lane of Route 434 East in the area between Parkwood Road and Front Street was closed in front of the Mapes Auction House as fire crews and NYSEG worked at the scene.  There were no injuries.
See the Must-Drive Roads in Every State
These Are 22 of the All-Time Most Romantic Country Songs
More From WNBF News Radio 1290 AM & 92.1 FM