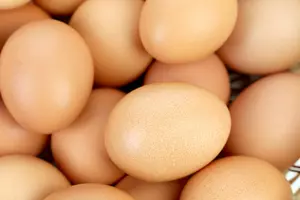 Salmonella Outbreak that Prompted Massive Egg Recall Affects NY and PA
ThinkStock
Nine states, including New York and Pennsylvania, have been affected by a massive egg recall that has led to a salmonella outbreak and sickened 35 people.
The CDC announced about a month ago that nearly 206 million eggs that were potentially contaminated with salmonella were distributed to restaurants and grocery stores in Colorado, Florida, New Jersey, New York, North Carolina, Pennsylvania, South Carolina, Virginia, and West Virginia.
Affected packages are stamped with the plant number P-1065 and Lot Codes 011 – 102. You can also get the full list of potentially contaminated products from the FDA here.
Following an investigation by the FDA, the contaminated eggs were linked back to Rose Acre Farms and their facility in North Carolina.
Some of the brands affected by the recall include: Coburn Farms, Country Daybreak, Food Lion store brand, Glenview, Great Value (Walmart), Nelms, Sunshine Farms and the Waffle House restaurant chain.
During an inspection in March it was discovered that employees touched dirty equipment as well as their bodies without washing and over a dozen rodents were reported to have been found in the facility.
The FDA recommends that you discard any eggs from with the listed plant number and lot codes from affected brands and to ask for refund if it applies.
More From WNBF News Radio 1290 AM & 92.1 FM