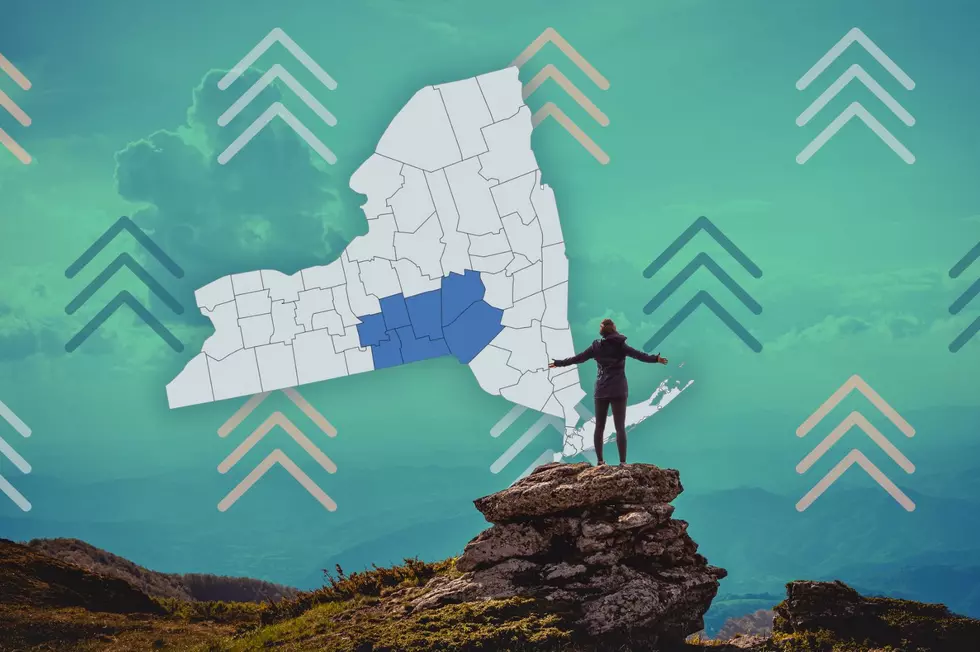 The Hike-Worthy Tallest Points In Each Southern Tier County
MapChart/Canva
Last weekend, I had a conversation with a friend of mine that was visiting from Florida. He's originally from here and he told me that the one thing that he misses about New York are the hills and the beautiful scenery...especially in the Fall.
Since then, I've begun to look around and see all the elevation differences that we have in the Empire State. It got me wondering, where are the highest elevations in the state and in particular in the counties closest to use?
Southern Tier Tallest Points By County
Broome - The highest point is in the northwest part of Broome County known as Slawson, that's on top of an unnamed hill in Sanford. It's around 2,087 feet above sea level.
Chenango - The highest spot in Chenango County is in the Melondy Hill State Forest in Afton. It's an unnamed place that is over 2,040 feet above seal level with a 20-foot closed contour.
Cortland - The highest location in Cortland County is on Virgil Mountain in Virgil. It's ranked 28 out of 62 on the list of New York County high points and is 2,110 feet above sea level.
Delaware - The air is the thinnest in Delaware County on Bearpen Mountain. The elevation reaches over 3,520 feet above sea level and also has a 20-foot closed contour.
Otsego - In Otsego, you are the closest to the clouds near East Worcester. This unnamed high point is up to 2,440 above sea level with a 20-foot closed contour.
Tompkins - To reach the peak in Tompkins County, you need to travel to Connecticut Hill. It's located near the Finger Lakes Trail and elevates to 2099 feet and is part of the 11,000 acre Connecticut Hill Wildlife Management Area.
Tioga - The highest point in Tioga County has no name but it's near Creamery Hill Road in Richford and is 1,994 feet above sea level.
Susquehanna - To tippy-toe to the top of Susquehanna County, you'll travel 2,693 feet up the North Nob (also known as Elk Hill) or Elk Mountain, so bring your skis.
The Tallest Peaks Of Each Southern Tier County (And A Few From Northeast Pennsylvania)
Lace up your hiking boots! Take a look at the tallest point in each county in the Southern Tier!
11 of the Best Ski Slopes and Resorts in Upstate New York
Upstate New York has some of the best ski resorts in the East. From the Catskills to the Adirondacks and into Central New York, these 11 slopes are busy places come Old Man Winter's snowy entrance!
Take a Look! 25 "Pretty as a Postcard" Upstate New York Towns
More From WNBF News Radio 1290 AM & 92.1 FM