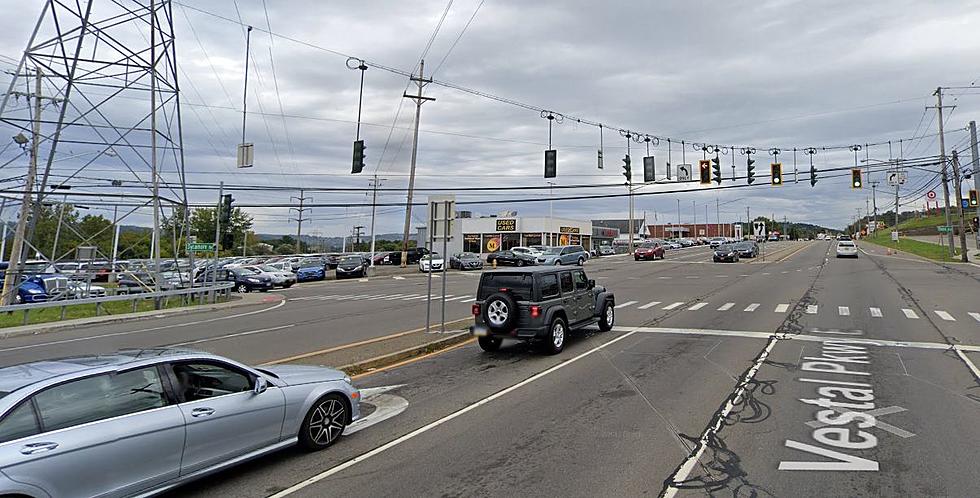 The Longest Traffic Lights In the Southern Tier Of New York
Google Maps Street View
Does impatience increase as we age? I seem to be more impatient than I used to be. Standing in line at a store, waiting for a package to arrive that is taking longer than the estimated delivery date, or just sitting in traffic while the traffic light glows red for what seems to be an eternity.
I recently traveled to Florida, and being impatient again, I ran a light that had just turned red. Now I'm being impatient for the inevitable - a traffic ticket in the mail since the light had a camera which I'm sure took my picture and video. Totally my fault.
Speaking of traffic lights, I asked the question on social media, "In your experience, what Southern Tier traffic signal has the longest wait?" Well, the answers came in bunches. I knew it would strike a nerve with Southern Tier motorists. It seems that the Chenango Bridge area and the area around Binghamton University got a lot of responses.
Some answers were funny, like Craig M. who commented "The one I'm stopped at..." Good answer. Julia M. says "Whichever one I'm stopped at when I need to pee and any blinking red when I'm just out of work and my brain is fried." Completely understand.
Patrick B. says "T
arget/Arby's light. I was able to eat a whole beef and cheddar and half my fries before the thing changed one day. I'm not a fast eater." And a reply from my brother who accompanied me to Florida, responding with "They turn red pretty quick in Florida eh 
Don Morgan
?" Well, yes, they do.
Here's a sampling of comments about some Southern Tier traffic lights that were mentioned as staying red too long:
Lee P

. - Route 12A and Service Road.

Connie T

. - Tompkins Street and Court Street.

Russ

 · Washington Avenue and North Street in Endicott. Good Luck making a right onto North Street.

Sandie J. - 

Upper Front Street/Fuller Road.

Jessie F. - 

Turning onto Conklin Ave from Mill street.

Nicholas B. - 

Vestal Parkway and Rano Blvd. Especially, if you are heading Eastbound and trying to make a left turn toward Lowes. It only seems to let 3 cars through before it changes.
Jeffrey K. - 

Floral Avenue & Burbank Avenue in Johnson City.

Nicky K. - 

Definitely taking a left on 12A in Chenango Bridge from I-88.

Dave M. - 

Four corners in Vestal.

Mikel P

.- 

Idk about the longest but I can tell ya every turning lane is long enough to get barely 5 cars through it.

Alan M. - 

Front St - Northgate Plaza.

Dave D. - 

Washington Ave onto North. Been a while though.

Mike P. - 

Henry Street turning Left on Brandywine.

Libbie H. - 

The one turning left out of SUNY Broome/Sheriff/Humane Society onto Front Street.

Tori W. - 

The one by Chenango Valley High School.
Carl T. - 

The one that lets you turn in to Binghamton University.
Jon K. - Harrison and Main Street in Endicott. Hands down.

Deanne T. - 

The unneeded light coming out of the empty Binghamton Plaza.

Celia C. - B

ottom of Mill Street.

Steven M. - 

Sycamore Road in Vestal at the Vestal Parkway.

Chrissy H. 

Monroe and McKinley in Endicott.

Kristie Z. - 

This is funny cuz I say it every time I pull up. It's a toss-up between Vestal Road and Main Street and the light at the intersection at the Vestal Parkway and the road that connects Old Vestal Road and the Parkway.

Faith L

. - Main Street Johnson City by the old Aldi's.
Mike N

. - Intersection by Wegmans.
Michael 

B. - The light by the old Kmart on West State Street Binghamton.
Karen M

. - Ben Franklin Elementary School Binghamton Southside.
Jonathan R

. - The ones where people aren't paying attention to the light cause they're on their phones. (We agree with you there, John!)
Greg V

. - Every light in Owego. It takes longer to get through Owego than it does to get where you're going.
Tim C

. - Was just back to the Southern Tier last year and I have to say "ALL OF THEM". They are slow as molasses!
Aimee L. - T
KEEP SCROLLING: The Most Stressful Roads To Drive In The USA
GALLERY: Can You Name These 10 Southern Tier Locations From The Sky? (Answers At The End)
TAKE A DEEP BREATH...: The 8 Worst Intersections in the Southern Tier
More From WNBF News Radio 1290 AM & 92.1 FM