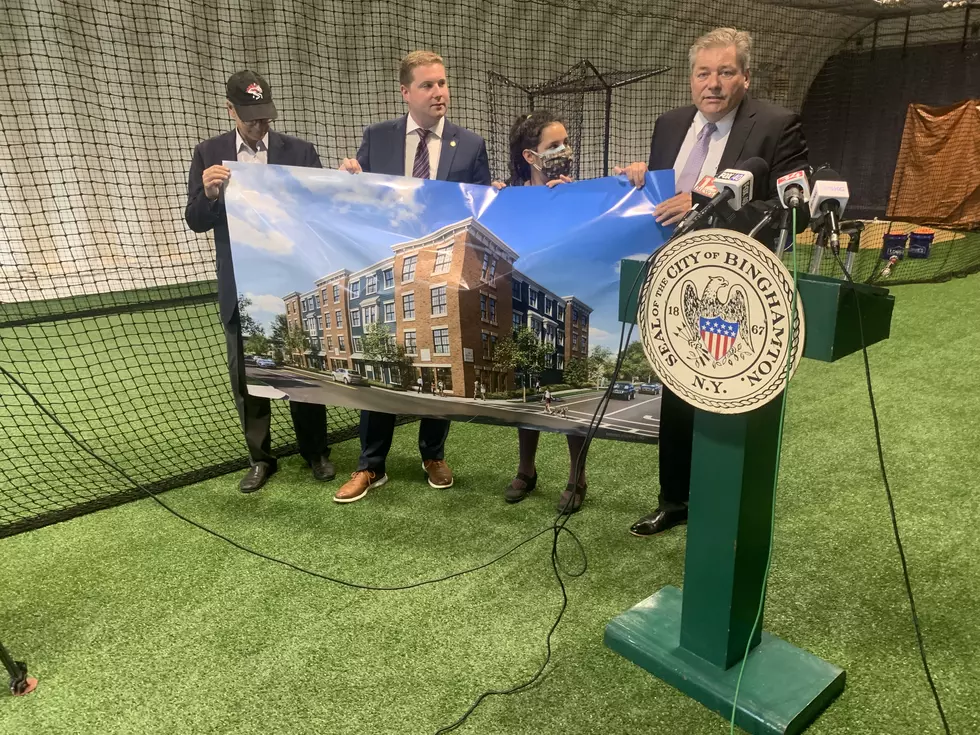 Mixed-Use Housing Development Coming to Binghamton Stadium District
James Kelly/WNBF
In a press conference on Tuesday, City of Binghamton Mayor Jared Kraham announced plans for the $24 million "Stadium Lofts" housing project at 180 Henry Street near Mirabito Stadium.
The project will include 70 units, many of which will be workforce housing units with up to half of the units marketed towards those who work in the arts. There will also be ground-floor commercial space included as part of the project to increase small business attractions in the area.
"We're acting on our vision to create a vibrant and walkable downtown Stadium District, attracting young professionals and new businesses near the ballpark," said Mayor Kraham. "This project will transform an important intersection, add to our housing stock and kick-start other public and private investments in the Stadium District corridor."
The project will be done by the Kearney Group, which plans to build a four to five-story building on four vacant and city-owned properties at the intersection of Henry Street and Chapman Street just across the street from the Mirabito Stadium parking lot. They will also apply for affordable housing credits through New York State Homes and Community Renewal.
Ken Kearney, the President of the Kearney Group, stated "The model has evolved from the original model I did 30 years ago when I did downtown revitalization. It's very simple. Make a superior product where people want to live at an affordable price. The superior product will attract people into an area that maybe has been neglected due to disinvestment or otherwise."
"We're thrilled to see such an exciting and vibrant project taking shape right across the street from Mirabito Stadium," said David Sobotka, Owner and President of the Binghamton Rumble Ponies. "Alongside the City, we welcome Ken's firm as the newest partner in our collective effort to revitalize Henry Street, draw more people to the Stadium District and continue to improve the area."
Kearney expects a funding round to be announced possibly as early as next month and if successful in acquiring a state award, they would be able to break ground in one year.
A Look Around Binghamton's 2022 Porchfest
A Look Around Binghamton's 2022 Porchfest
46 Famous Athletes With Ties to the Binghamton Area
More From WNBF News Radio 1290 AM & 92.1 FM