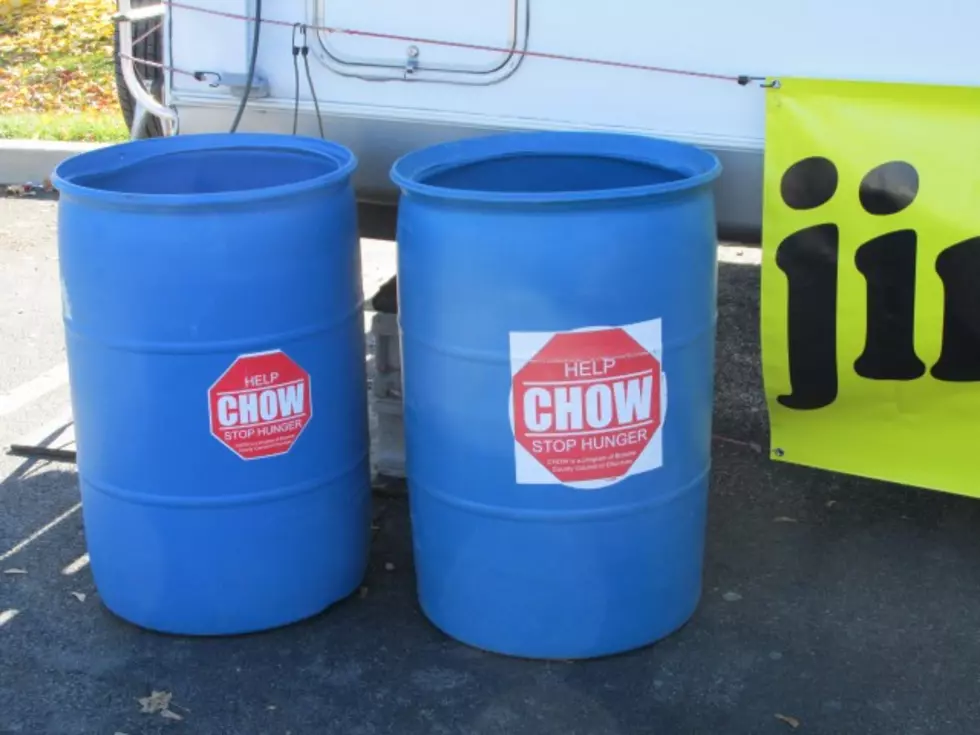 Food-a-bago Shatters Records, Government Offices Step Up for CHOW
WNBF News/Roger Neel Photo
On the heels of a hugely successful Food-a-bago to raise food and money for the Community Hunger Outreach Warehouse, pulling in $10,000 and, at last count, over four tons of food (with another full truck yet to be weighed), local government offices are stepping up to help. 
Through Thursday, November 14, CHOW barrels are set up at the Broome County, New York State and Binghamton City office buildings at the Governmental Plaza complex on Hawley Street in a friendly contest to see what branch can collect the most food.
The Food-a-bago, which has been a major food-raising effort for CHOW for around two decades, set a goal of $5,200.  The overall goal taking into account the amount of food that can be purchased by CHOW added to the weight of the actual food was 30,000 pounds.  The dollar donation alone put the effort at the equivalent of 50,000 pounds or 25 tons of food.  That can be added to the weight of the first truck load at 8,200 pounds and what ever the weight of the second truck comes in.
In Broome County, one in eight residents and 1 in five children are food insecure.  Each year, CHOW and its partner pantries, non-profits and community meals, distributes over 2.2 million pounds of food.
More From WNBF News Radio 1290 AM & 92.1 FM