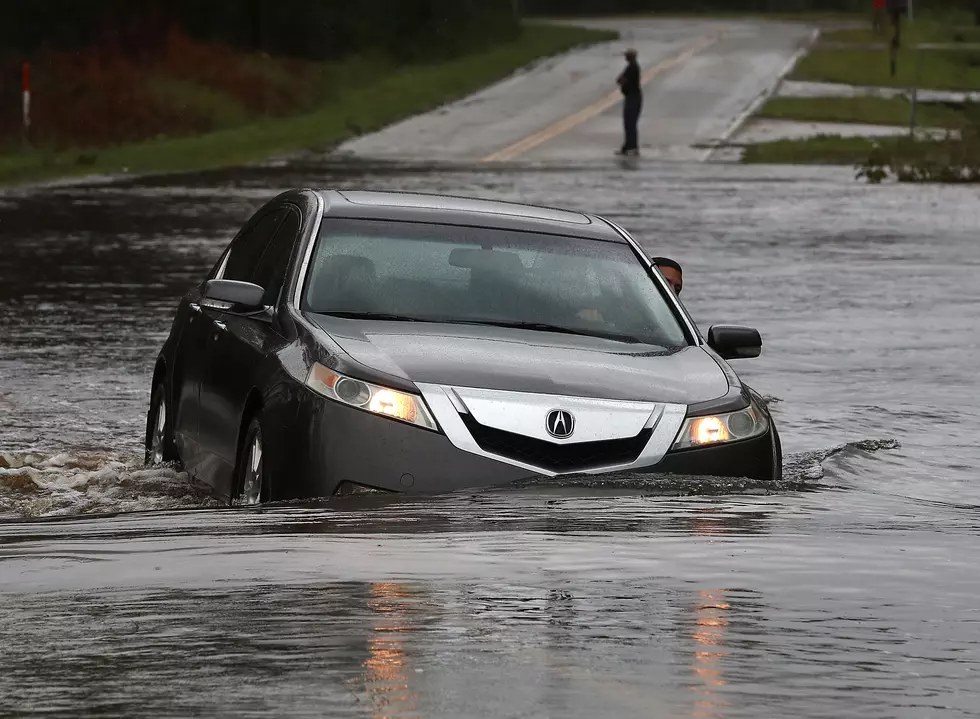 Flooding Severely Slows Down Southern Tier Morning Commute
Mark Wilson/Getty Images
When the Southern Tier went to bed on Monday night, we knew that we were going to get overnight rain, but few could have imagined just how interesting the rain would make our Tuesday. About a dozen area schools either delayed or closed their doors for the day and a State of Emergency was issued for Tioga County.
It was at 6 a.m. Tuesday morning that Tioga County Legislative Deputy Chair Dale Weston declared the State of Emergency for Tioga County due to flash flooding. Tioga County Director of Emergency Services Michael Simmons and Tioga County Sheriff Gary W. Howard have advised no unnecessary travel through the county due to the flooding and note that several County roads are restricted to emergency vehicles only due to the State of Emergency.
A Flood Warning is in effect for the Chenango River at Chenango Forks. At 5 a.m.
Tuesday, the stage was 9.6 feet. The flood stage is 10 feet and so minor flooding is expected. The river is expected to crest around 10.8 feet at 2 p.m. Tuesday and then fall below the flood stage after 6 p.m. this evening. To give you a better idea, at 11 feet, the soccer fields and low lying trails at Otsiningo Park North flood. As of 8 a.m., Otsiningo Park is closed because of flooding. Additionally, a Flash Flood Warning remains in effect until 12 p.m. today and a Flood Advisory until 10:45 a.m.
This video shows just how much the Susquehanna River water levels went up overnight.
When it comes to looking out for each other, this community is amazing. All morning our radio stations have been fielding calls from commuters and according to those who have been out on the roads, these are the big issues that the Southern Tier needs to be aware of during the Tuesday morning commute:
1. Route 26 in Glen Aubrey is closed because of flooding.
2. Union Center Highway by LWW and AGM is almost completely covered in water and a little further down just past Union Center Fire Station, the road is mostly underwater and down to one lane.
3. Colesville Road is covered in water from Sanitaria Springs into Binghamton.
4. Route 38 is closed in Newark Valley at the gas station where it goes to Maine-Newark Valley Road.
5. In Owego on Route 38 where Mario's Pizza is- the road is flooded and closed, you'll have to take Erie Street by the Boy's Club to go around the closure, but be aware that there are about 4 inches of rain running across the street at the end of Erie.
6. One listener told us she tried to travel down Halsey Valley Road and was stopped and told the road was closed and that she needed to take the highway instead.
7. The water is almost up to the road at the Talcott Street bridge in Owego.
8. Multiple roads in the town of Smithville have washed out and closed.
9. Monkey Run Road in the town of Fenton is closed.
10. A section of Stillwater road going toward Greene has water gushing across the road and is filled with debris.
11. Route 32 between Oxford and Greene is closed and several of the town roads around Oxford are closed. There's also a ton of debris on the roads between Oxford and Afton.
More From WNBF News Radio 1290 AM & 92.1 FM