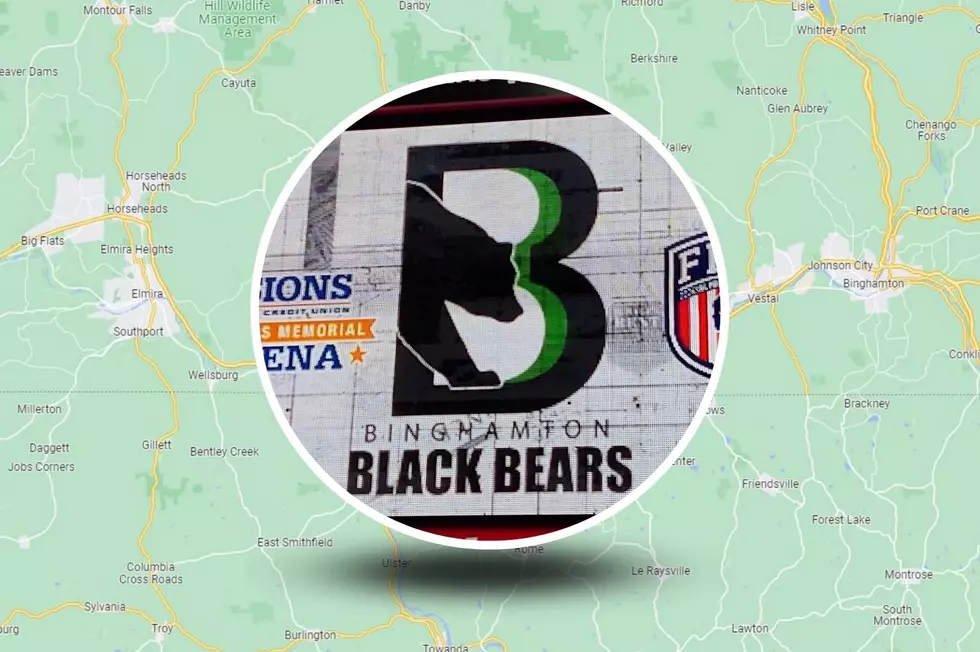 Binghamton Black Bears Have New Hockey Rival In Elmira
Glenn Pitcher/Google
Our community has a rich history when it comes to hockey. Whether it be professional, college, high school, or amateur hockey, it's an important part of life in Broome County.
I remember back in the early 1980s, my wife dragged me to see a hockey game at the Broome County Arena. I had never been to a game before, and was really not interested, but figured I'd give it a try (not to mention giving in to my wife's strong request to attend a game with her.)
Well, by the time the horn sounded at the end of the third period, I had become hooked. It took just one game to get me excited about local professional hockey. I attended just about every game for several years in a row. Hockey is by no means a boring sport. You know that if you are like me, and have a passion for hockey, no matter if you are a player or a spectator.
We've seen a few teams come and go over the past few decades, but the passion for the game continues to be there, no matter what team calls Binghamton, home. This year was the inaugural year for the Binghamton Black Bears, playing in the Federal Prospects Hockey League. It was a great season and also good to see our team make it into the playoff season as well/
The FPHL is a growing league, and it was announced today (4/27) that a new team has been added to the league beginning this October. And that team will most likely be the new rival of the Binghamton Black Bears. The announcement came from the revitalized First Arena in Elmira.
According to WENY-TV, Elmira, The Mammoth Sports, and Entertainment group which now runs the First Arena, worked with local groups including the Chemung County IDA to bring back professional hockey to Elmira. They announced in a press conference at the First Arena that Emira will return to the Federal Prospects Hockey League in October of this year. The team name will be the Elmira Mammoth.
My Twin Tiers website (WETM-TV) mentions that during the press conference, it was revealed that the name 'Mammoth'  was inspired by the name of the Chemung River which runs through Elmira. Chemung means 'place of the big horn in indigenous languages, referring to wooly mammoths.
We look forward to a great rivalry between Binghamton and Elmira and with the fact that the distance is 60 miles or less, it will greatly benefit hockey fans from both communities. Let the rivalry begin.
46 Famous Athletes With Ties to the Binghamton Area
A Lookback at Binghamton Sports
Binghamton is a city filled with culture and community. What is one piece of culture that brings the community together? Sports; and Binghamton has a long line of historic teams.
More From WNBF News Radio 1290 AM & 92.1 FM