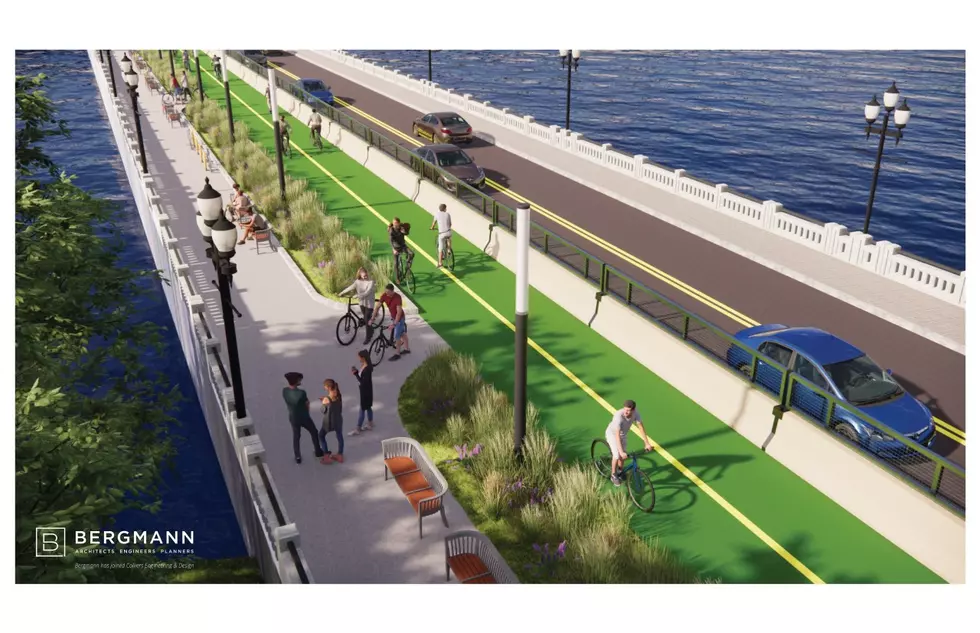 Binghamton's Memorial Bridge Makeover
Artist rendering provided by Binghamton City Hall
Binghamton Mayor Jared Kraham is announcing plans to make Memorial Bridge more memorable with a major upgrade.
Officials are in the process of coming up with designs to make the span, that was erected in 1925 in memory of those who served in the four branches of the military in "America's Wars", safer and more attractive to pedestrians, cyclists and motorists.
Designs include dedicated bike and pedestrian lanes, new lighting, green space landscaping and seating.
The span is located at the confluence of the Chenango and Susquehanna Rivers connecting the downtown district with the City's west side.
Binghamton Metropolitan Transportation Study (BMTS) Executive Director Yonkoski says the project can serve as a catalyst for more revitalization in the surrounding area.
Binghamton is to hire a team of civil and traffic engineers and landscape architecture professionals to come up with the final design.
Bergmann Architects, Engineers, Planners, which has an office in Binghamton as well as other cities around New York, the East Coast, Mid-West and Western United States, has provide artist-renderings of the project.
The City says right now, an average of 14,500 cars cross Memorial Bridge with over 100 pedestrians record at the intersection of Washington Street and North Shore Drive during peak traveling hours.
The span is at the termination of the Brandywine Highway or Route 363 where cars are supposed to slow from 40 miles per hour or more to the City maximum speed limit of 30 miles per hour as the road becomes Riverside Drive on the west end of Memorial Bridge. Many vehicles continue to speed over the four-lane span and the reduction of the roadway by half could reign in drivers who continue to treat the bridge as part of the highway.
Supporters say the new designs and aesthetics of the bridge could also help slow traffic and enhance safety in the area.
Funds for the design project are included in this year's proposed budget that was presented to City Council earlier this month.
The Biggest Speed Traps In The Southern Tier
The Five Most Confusing Traffic Mergers in Binghamton
More From WNBF News Radio 1290 AM & 92.1 FM