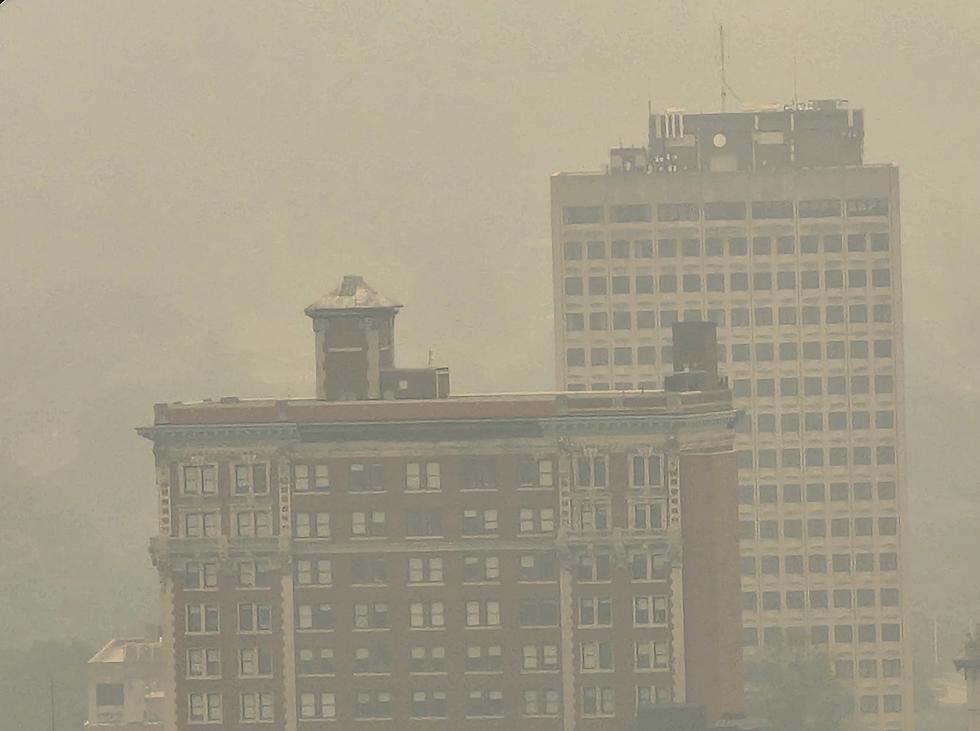 Binghamton Area Smothered by Toxic Smoke From Quebec Wildfires
Photo: Bob Joseph/WNBF News
Smoke generated by raging wildfires in Canada continues to pour into New York, Pennsylvania and the rest of the northeastern United States.
New York state officials said an air quality alert was in effect Tuesday for the region. An alert also is expected to be issued for Wednesday.
The Air Quality Index in Broome County at 3 p.m. Tuesday was reported to be 169 which is considered to be an unhealthy level for virtually everyone. A typical Binghamton-area reading for this time of year would be around 44.
Jake Chalupsky, a meteorologist at the National Weather Service Binghamton office, said lighting from thunderstorms last Friday and Saturday sparked wildfires in central Quebec.
The smoke reaching the Binghamton area is from fires 400 to 500 miles away. Wind patterns have been blowing the acrid smoke directly into the region.
Chalupsky said conditions in the region may be even worse Wednesday morning and afternoon.
Broome County officials postponed a concert that had been planned for Otsiningo Park Tuesday evening.
Waterfronts at all county park were closed until further notice but parks were otherwise open.
The county emergency services center was much busier than usual because of calls from people with medical issues likely related to the smoky conditions. The center also received many 911 calls from residents reporting "smoke conditions."
Several people walking around downtown Binghamton Tuesday were wearing masks in an effort to provide some protection from the smoke.
Health officials said people with heart or breathing problems should avoid outdoor activity until the air quality improves.
Enter your number to get our free mobile app
Contact WNBF News reporter Bob Joseph: bob@wnbf.com or (607) 545-2250. For breaking news and updates on developing stories, follow @BinghamtonNow on Twitter.
LOOK: 20 of the strangest natural phenomena in America
From fire rainbows to bioluminescent bays, America is home to some truly bizarre natural phenomena. See
Stacker
's list of 20 of the strangest natural phenomena in the U.S.
Plant Some Of These In Your Idaho Garden to Keep Mosquitoes Away
As we previously told you, mosquitoes are the most
dangerous creatures on earth
. If you want to keep them away from you're yard, these plants can help!
QUIZ: Can you identify 50 famous companies by their logos?
How well do you know the logos of 50 of the world's most famous companies? Keep scrolling to see if you can guess which icon belongs to which brand.
More From WNBF News Radio 1290 AM & 92.1 FM